Artworks by Lynne Mapp Drexler and Thanos Tsingos Grab Attention in Upcoming Barridoff Auctions Fine Arts Sale
Aug 20, 2022 13:00 EDT
Updated on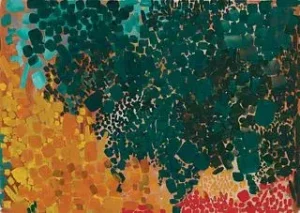 Lynne Mapp Drexler was well-known for her Abstract Expressionist artworks. Her paintings often involved vibrant landscapes recalling Henri Matisse's works. The upcoming Barridoff Auctions sale presents an untitled Lynne Mapp Drexler painting. The 1961 gouache on paper depicts the artist's Hans Hofmann-inspired brushstrokes. The vibrant color swatches in Drexler's artwork set her apart from fellow artists.
Another highlight is an oil painting titled Fleur Bleue, en Bouquet Polychrome sur Fond Noir by Thanos Tsingos. His lyrical artworks are known to take the viewer beyond reality. The artist created his subjects with thick paste laid using fingers. The available artwork portrays a blue flower on a black background set in a polychrome bouquet. It is a fine example of Tsingos' unconventional painting process, which is devoid of brushes. Also showcased is a gelatin silver print titled Folding by Ruth Bernhard. The available studio-based photograph by Bernhard depicts a nude person curled in a ball. Ruth Bernhard's nude shots have acquired international acclaim. Folding highlights her idea of valuing small things in life.
A wood assemblage, titled Through the Barn Window, by Bernard Langlais is also notable. It features Langlais' use of different materials and a deeper understanding of space. The sculpture defines his affinity toward the animal kingdom. Interested collectors can also find watercolor and ink drawings by Walt Kuhn and works of Maurice Freedman, William Manning, William Thon, and Charles Reid. Explore the entire listings, register to bid online on Bidsquare, and check out other online auctions.
Price Range:
$500 - $30,000
Interesting lots include:
| Item Image | Item Name | Estimate |
| --- | --- | --- |
| | Untitled By Lynne Mapp Drexler. | Estimate: $20,000 - $30,000 Starting Bid:$10,000 |
| | Fleur Bleue, en Bouquet Polychrome sur Fond Noir By Tsingos Thanos. | Estimate: $15,000 - $20,000 Starting Bid:$7,500 |
| | Folding By Ruth Bernhard. | Estimate: $5,000 - $7,000 Starting Bid:$2,500 |
| | Through the Barn Window By Bernard Langlais. | Estimate: $3,000 - $5,000 Starting Bid:$1,500 |
| | Hunting Rabbits By Walt Kuhn. | Estimate: $1,000 - $1,500 Starting Bid:$500 |
| | Joy By Charles Reid. | Estimate: $600 - $800 Starting Bid:$300 |
Contact Info
Barridoff Galleries

312 Gannet Drive, South Portland, Maine 4106
207-772-5011
info@easternartservices