Updated on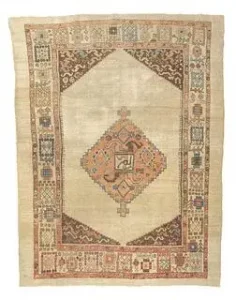 Heriz rugs originated in the village of Heriz, located on the slopes of Mount Sabalan in northwest Iran. Bakshayesh rugs are tribal Heriz carpets woven since 1900. These carpets are durable and hard-wearing, and they can last for generations. The hard-wearing wool is due to traces of copper in the drinking water of sheep. An antique tribal Bakshayesh Heriz carpet is offered in New Year Auction, presented by 1stbid. The available carpet has slightly more muted palettes, like rust, straw, and lighter blues. Heriz carpets typically have coarse to moderate weaves, wool, or mixed constructions.
A well-made, antique Tabriz carpet is also available in the New Year Auction. Its ecru field and flower border display polychrome palmettes. The corners with barbed leaf edges surround an elaborate medallion central motif. The motif is surrounded by a rich red border. Tabriz carpets
originated in East Azerbaijan province in Iran. Between the 12th and 16th centuries CE, the art of Tabriz carpets was at its zenith. The art is continued through Tabriz carpets while adapting to the changing taste in colors and patterns. Among European carpets available in this sale is an antique Aubusson-Beauvais pictorial French tapestry. It depicts young French friends and lovers outdoors. The Aubusson tapestry industry likely developed soon after 1300 in the Aubusson valley of central France. Find the listed items and more online auctions on Bidsquare and register to place a bid.
Price Range:
$250 - $40,000
Interesting lots include:
| Item Image | Item Name | Estimate |
| --- | --- | --- |
| | Antique Tribal Bakshayesh Rug | Estimate: $35,000 - $40,000 Starting Bid:$20,000 |
| | Antique Tabriz Rug | Estimate: $18,000 - $20,000 Starting Bid:$13,000 |
| | Antique French Tapestry | Estimate: $15,000 - $20,000 Starting Bid:$10,000 |
| | Antique Chinese Peking Rug | Estimate: $5,000 - $7,000 Starting Bid:$2,500 |
| | Vintage Afghan Balouch Rug | Estimate: $300 - $500 Starting Bid:$270 |
Contact Info
1stbid

1251 Wisconsin Ave, NW, Washington, District of Columbia 20007
202-758-0801