A Coastal Painting by Eugène Boudin Becomes Highlight of the Upcoming Bonhams Skinner European Art sale
Jun 20, 2022 12:00 EDT - Jun 30, 2022 19:00 EDT
Updated on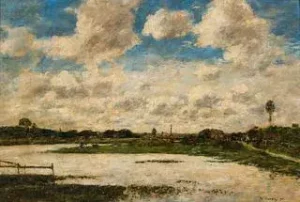 Painter Eugène Louis Boudin was famous for his seascapes featuring ports and beaches. The artist's paintings were full of positivity and offered a poetic impression. Eugène Boudin was named the "King of the Skies" by landscape painter Jean-Baptiste-Camille Corot. French literary scholars like Baudelaire also applauded his paintings. Boudin was the first French artist to experiment with the Plein air painting technique. The upcoming auction by Bonhams Skinner presents an oil painting by Eugène Boudin. Les Bords de la Touques à Trouville Pendant les Grandes Marées portrays a coastal scene during a high tide. The available painting depicts the influence of 17th-century Dutch masters on Boudin's work.
Offered is an oil painting by Andre Hambourg showcasing the romantic aspect of Venice through its architecture. Le grand canal III, a luminous landscape painting by Hambourg, features his signature style. Hambourg received the Laureate of the Salon de la Marine honor.
The auction also highlights floral paintings by Cecil Kennedy. Flowers of Natal No.1 portrays Kennedy's how detailed floral artworks elevated the still life painting style. Kennedy combined his detailing techniques with a rich color palette, imparting an aesthetic appeal to his artworks. The available floral painting depicts Kennedy's complex compositions featuring flowers and a ladybug.
Featured is City Archway by ultra-contemporary painter Khalid Al-Jadir. The artist's expressionist paintings were notable for their elegant color balance. Al-Jadir depicted cultural aspects of any region through his impressive compositions. The European Art auction will also offer Erskine Nicol's figure painting Mental Arithmetic, Biblical artworks, and portraits from early master painters. Interested collectors can explore the entire listings, register to bid online on Bidsquare, and check other online auctions.
Price Range:
$300 - $55,000
Interesting lots include:
| Item Image | Item Name | Estimate |
| --- | --- | --- |
| | Les Bords de la Touques à Trouville Pendant les Grandes Marées oil on canvas by Eugène Boudin. | Estimate: $35,000 - $55,000 Starting Bid:$17,500 |
| | Le grand canal III oil on canvas by Andre Hambourg. | Estimate: $18,000 - $22,000 Starting Bid:$9,000 |
| | Flowers of Natal No. 1oil on linen by Cecil Kennedy. | Estimate: $3,000 - $5,000 Starting Bid:$1,500 |
| | City Archway oil on board by Khalid Al-Jadir. | Estimate: $1,000 - $1,500 Starting Bid:$500 |
| | Mental Arithmetic oil on canvas by Erskine Nicol. | Estimate: $500 - $700 Starting Bid:$250 |
Contact Info
Bonhams Skinner

274 Cedar Hill Street, Marlborough, Massachusetts 01752
508-970-3000