Monumental Classical Painting Attributed to Chinese Ming Dynasty Painter Qui Ying Soars to $112,500 at Ahlers & Ogletree's March 25-26 Auction
Asian lots took center stage at Ahlers & Ogletree's March 25-26 Spring Salon Auction, as a monumental classical painting attributed to Ming painter Qiu Ying (Chinese, 1494-1552) soared to $112,500, and a pair of Chinese huanghuali hardwood side tables made in the first half of the 20th century finished at $26,550. Overall, the auction grossed around $900,000.
Bidding was brisk at the two-day weekend sale, with the total of in-house, phone and absentee bidders numbering close to 600 (absentee and phone bids executed fell just shy of 800). But the real action was online, via LiveAuctioneers.com (9,563 registered bidders), Invaluable.com (2,855 registered bidders), Bidsquare (142 registered bidders) and the A&O app (340 bidders).
Headlining the event was the estate of Anne Eng, owner of Trader Eng's and House of Eng in Atlanta; the private collection of Susan E. Yeomans of Charleston, S.C. (a direct descendant of former South Carolina Governors Ibra C. Blackwood and Carroll Ashmore Campbell, Jr., and former U.S. President Grover Cleveland); and the estate of Liz Howell Bloodworth of Atlanta.
The work attributed to Qiu Ying, depicting a palace courtyard, was a gouache and ink on paper, laid down on three wood panels, signed and sealed. It was truly monumental – 6 feet 7 inches tall by 21 feet 3 inches wide, and depicted a series of palace buildings and courtyards set in a mountain landscape. The painting was one of the choice lots from Anne Eng's impressive estate.
The pair of hardwood huanghuali side tables were both square in form and boasted an open, pierced gallery apron, with a box stretcher. Both were apparently unmarked and measured just over 19 inches in height. They, too, came out of the Anne Eng estate. The term huanghauli literally means "yellow flowering pear" wood. It's desired for its translucent shimmering surface.
Remaining in Asia, a famille rose Chinese Export dinner service, 59 pieces, bearing the marks of the Guangxu period (1875-1908), decorated with butterflies centering an iron red dragon chasing the flaming pearl, breezed to $19,880; and a mid-20th century Chinese carved, stained hardwood bench, having a pierced fretwork back centered with a large, inset dreamstone, went for $10,890.
A ladies' platinum and diamond engagement and wedding ring set, consisting of an engagement ring having a central natural modern round brilliant cut diamond weighing about 2.65 carats, with two tapering baguette cut diamonds and three to the wedding band, realized $12,980. Also, an 18kt yellow gold and diamond ladies' Rolex Oyster Perpetual Datejust wristwatch with diamond bezel on a gold bracelet, topped out at $7,865.
A two-tone, dark green to light face jug by the renowned American folk artist Lanier Meaders (Ga., 1917-1998), made circa 1970s with a strap handle, painted white eyes with black pupils, a pointed nose and ears and six painted white teeth, signed, 9 ½ inches tall, garnered $1,240 (15 lots by Meaders brought a total of $9,650). Also, a large rococo style 20th century bronze Italian two-tiered garden fountain with an allover verdigris patina, about 70 inches tall, rose to $4,960.
The fine art category featured an oil on canvas allegorical figure painting by Robert Jessup (Tex., b. 1952), depicting a woman unexpectedly emerging from a puppet stage, startling a boy with a book in hand, signed and dated, measuring 72 ½ inches by 117 inches (framed), went for $5,890; while an oil on canvas figural rendering of the famed White Hall Inn & Tavern in antebellum Atlanta, Georgia, by Wilbur Kurtz (Am., 1882-1967), titled White Hall 1840, brought $4,425.
A semicircular "Omnibus III" sectional sofa attributed to the German-born American designer Vladimir Kagan designed in 1953 and upholstered in gray microfiber, with a loose back and tufted seat cushions, on Lucite supports, fetched $5,900. Also, an exotic Mid-Century Modern rosewood desk by Roger Sprunger for Dunbar, having a rectangular form and marked on the inside drawer for Dunbar, fetched $2,178.
Ahlers & Ogletree has two auctions planned for the spring and early summer: a May 4th Jewelry & Couture Accessories Auction and a June 10-11 Summer Estates Auction. Details will be made public in the coming weeks.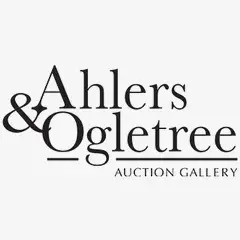 Follow