Casino Chips at Auction: A Brief Peek Into History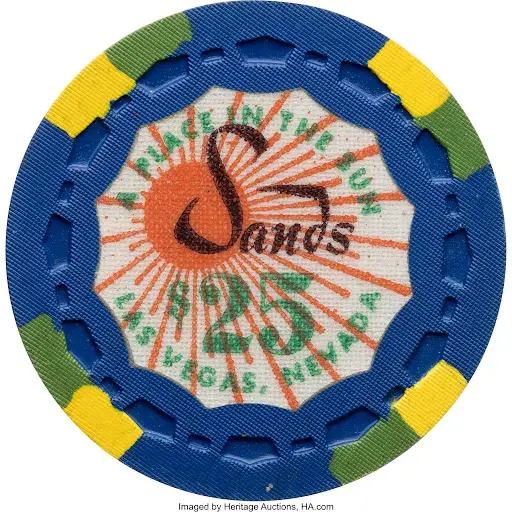 Casino chips or poker chips are the colored small discs that serve as the primary currency in casinos (online and land-based). People have been collecting casino chips ever since casinos entered the picture and over recent years, it has turned into a serious hobby. Here's some good news for poker fans. On December 3, 2022, a vintage casino chips sale will be hosted by Heritage Auctions. The auction will feature a collection of 'high rollers' vintage Las Vegas casino chips. Here is a look at the history of casino chips collecting before the bidding begins.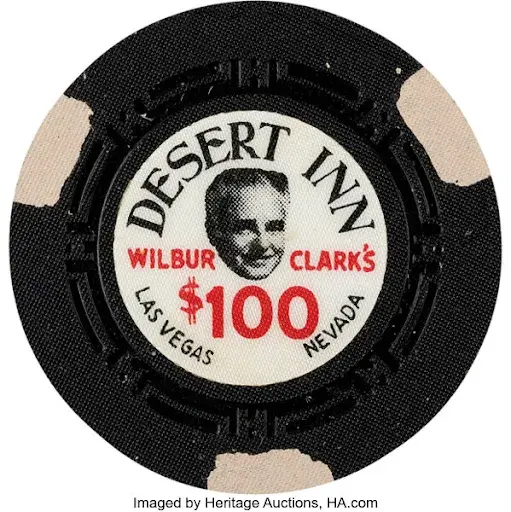 How It All Started
Until the 18th century, poker players used gold nuggets, gold pieces, and chips made of bone, wood, ivory, paper, and other materials in their games. Between the 1880s and the late 1930s, casino companies started producing circular-design poker chips of sand and clay. With time and technology, these small tokens of currency evolved in design and size. Today, the standard size of most casino chips is 39mm in diameter with a weight ranging from 8.5 grams to 20.5 grams.
The popularity of chip collecting increased with an array of casino and collecting newsletters being published during the 1980s. In early 1980, Bill Borland started Worldwide Casino Exchange, which carried a casino story in each issue and dozens of old chips for sale. Similarly, Al W. Moe's Casino and Gaming Chips magazine ran successfully for several years in the mid-1980s and attracted token collectors.
Chip collection got its biggest boost after the formation of the Casino Chip & Gaming Tokens Collectors Club (CC & GTCC) in 1988. Found by chip collector Archie Black, the club promotes the collecting of casino chips and other gaming memorabilia. The collectors club still conducts an annual convention in Las Vegas, encouraging chip lovers across the globe to buy and sell casino tokens.
Today, there are many magazines and published casino price guides, the most popular being The Official U.S. Casino Chip Price Guide and The Chip Rack. While the former covers chips from casinos in Colorado, Nevada, Atlantic City, New Jersey, South Dakota, and various Midwestern American states, The Chip Rack covers chips and checks issued by Nevada casinos.

Casino Chips Price Overview
As collectibles, casino chips are classified by denomination, specific casinos, and geographical area. Their value depends on factors like rarity, condition, mold, appeal, and location.
Vintage and defunct chips with attractive graphics are highly valued among collectors. They can fetch thousands of dollars and often top the casino chip price guides. For instance, an extraordinarily rare $5 chip from the Golden Goose commanded a whopping $75,000. This record price was set at the CC & GTCC convention in 2014. One of the top gambling and entertainment destinations in the world is Sin City– Las Vegas. Chips sourced from Vegas and Nevada casinos usually rank high on collectors' wish lists.
Contemporary Collectors of Casino Chips
American collector Gregg Fisher currently holds the record for the largest collection of casino chips and tokens. According to the World Record Academy, Fisher has 2,222 casino chips and tokens in his collection. "The record is based on the largest number of items over a single subject in a private personal collection. In this case, only one chip or token from a specific casino is counted," said Fisher in a press release from the Casino Collectibles Association.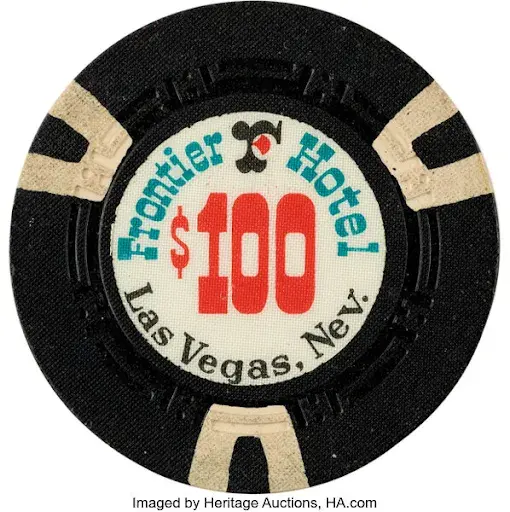 About the Upcoming Auction
Heritage Auctions will present a collection of vintage Las Vegas casino chips on December 3, 2022 at 12:00 PM EST. Leading the sale is a first Issue poker chip from the Frontier Hotel. The lot is considered to be the rarest and most desirable of the collection. This chip is the only known surviving $100 poker chip from the Frontier Hotel. The opening bid stands at $12,000. Black with an HCE mold, the chip has six white and three black inserts.
Other rare chips include a first issue R-10 Riviera $5 poker chip, and a second Issue R-9 Sands $5 poker chip. The vibrant $5 Blue Sands chip dates back to 1953 and comes with an Arodie mold with three red inserts. This sharp-looking chip features sun and mountains on the inlay.
For more information and to register to bid, visit Heritage Auctions.
Look for the latest auction world news on Auction Daily.
Media Source
Follow
More in the auction industry