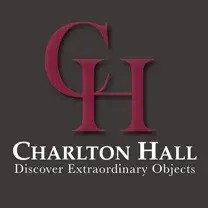 William George Gillies Painting and Paul Storr Silver Lead Charlton Hall Galleries' International Sale
Sep 17, 2021 11:00 EDT
Updated on
After finishing his military service during World War I, Scottish painter William George Gillies set out to explore the emerging art trends of Europe. He fell in with the Cubists for a time and studied the work of André Lhote, Paul Klee, and Paul Cézanne. Gillies eventually developed a near-Cubist style that he applied to fruit still lifes and landscape paintings of the Scottish Lowlands. Charlton Hall Galleries will present a still life painting by William George Gillies in its upcoming International Sale. This dark oil on canvas depicts two golden apples resting on a platter. Behind them is a light blue vase and goblet. The style of this painting reflects Gillies' interest in Cubism with its flattened shapes and dark tones.
Sterling silver and porcelain items are on offer as well. Leading the listings ia a pair of sterling silver sauce tureens from Paul Storr. The 19th-century silversmith often created custom pieces for English royals. He was particularly known for his elaborate Neoclassical style. The available oval-shaped sauce tureens feature shell and twig details and acanthus leaf feet. A silver and glass cruet from Paul Storr is also available. Eight cut-glass bottles accompany the vessel.
The International Sale will present a selection of antique and modern furniture from English and American designers. Bidders can consider a set of eight Norman Cherner dining chairs. Cherner designed these molded plywood chairs for Massachusetts-based manufactuer Plycraft in the 1950s. The sleek lines of these 'Cherner Chairs' matched the designer's Bauhaus style and commitment to making interior design affordable. Other available furnishings include a Chippendale-style mahogany sofa with Scalamandré upholstery, an extension dining table from Oscar de la Renta, and a selection of Persian carpets. Visit Charlton Hall Galleries' website to view the full catalog and to place a bid.
Price Range:
$200 - $12,000
Interesting lots include:
| Item Image | Item Name | Estimate |
| --- | --- | --- |
| | Fine Pair Regency Sterling Silver Sauce Tureens, Paul Storr (2pcs) | Estimate: $8,000 - $12,000 Starting Bid:$4,000 |
| | Antique Persian Sultanabad Carpet | Estimate: $5,000 - $10,000 Starting Bid:$3,600 |
| | Sir William George Gillies | Estimate: $4,000 - $7,000 Starting Bid:$2,000 |
| | Norman Cherner Dining Chairs (8pcs) | Estimate: $1,200 - $2,000 Starting Bid:$1,400 |
| | Chinese Export Famille Rose Porcelain Charger | Estimate: $800 - $1,200 Starting Bid:$550 |
| | English Brass Twelve-Light Chandelier | Estimate: $500 - $800 Starting Bid:$250 |
Contact Info
Charlton Hall

7 Lexington Dr., West Columbia, South Carolina 29170
803-779-5678