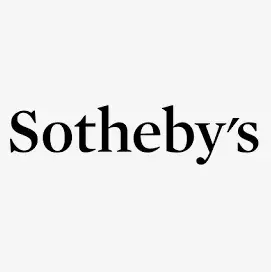 The Sassoon Collection: Jewish Religious Objects and Manuscripts at Sotheby's
Dec 17, 2020 10:00 EST
Updated on
Sotheby's first partnered with the Sassoon family in 1970 to offer a Judaica sale featuring their collection. Five decades later, the auction house will continue its partnership with the family to present a December auction of notable Jewish manuscripts and ceremonial objects. Among the leading lots is a parcel-gilt silver and enamel Torah shield from the late 18th century. Crafted by Elimelekh Tzoref of Stanislav, this shield was likely designed for a private patron who would display the piece above the Torah scroll in a home synagogue. It has striking symbolic details, including leafy scrolls and animals surrounding the crowned Tablets of the Law.
This auction will bring 68 lots from the Sassoon Judaica collection. Many hold personal significance for the family. A silver-cased Torah scroll and Haftarah scroll, for example, was given directly to Flora Sassoon from Rabbi Joseph Hayyim of Baghdad. These scrolls were passed down through the generations for over a century before reaching the auction block.
Among the key written works in the event is a 19th-century miniature Torah scroll that measures under three inches high. The scroll comes with silver-gilt finials, a gilt Torah pointer, and a silk mantle with matching fringes. A daily prayer book owned by R. Joseph Hayyim with annotations and an 11th-century Hebrew-Arabic dictionary will be available as well. Browse the complete listings and register to bid on the Sotheby's website. Find more information about the Sassoon Judaica collection on Auction Daily.
Price Range:
$1,500 - $900,000
Interesting lots include:
| Item Image | Item Name | Estimate |
| --- | --- | --- |
| | A Highly Important Parcel-gilt Silver And Enamel Torah Shield, Signed And Dated In Hebrew Elimelekh Tzoref Of Stanislav, 1782 | Estimate: $600,000 - $900,000 Starting Bid:$420,000 |
| | Siddur Of The Ben Ish Hai With Lurianic Kabbalistic Commentary, [baghdad: 19th Century] | Estimate: $100,000 - $200,000 Starting Bid:$70,000 |
| | Miniature Torah Scroll [19th Century] With Gold Woven Mantle And Binder And Miniature Silver-gilt Finials, Shield, And Pointer, Possibly Dutch 1840-1860 | Estimate: $80,000 - $120,000 Starting Bid:$60,000 |
| | A Rare Set Of Chinese Export Parcel-gilt Silver-cased Torah Scroll And Haftarah Scroll, The Scrolls Sent By The Ben Ish Hai To Flora Sassoon, The Cases Marked Gothic K, Probably 1893 | Estimate: $50,000 - $80,000 Starting Bid:$35,000 |
| | A Magnificently Decorated Ketubbah From Bombay, 1853 | Estimate: $10,000 - $20,000 Starting Bid:$8,000 |
| | A Gold Fish-form Scent Flask, Used By The Sassoon Family For Havdalah, Probably Chinese, Late 19th Century | Estimate: $4,000 - $6,000 Starting Bid:$2,800 |
Contact Info
Sotheby's

1334 York Avenue, New York, New York 10021
212 606 7000