Updated on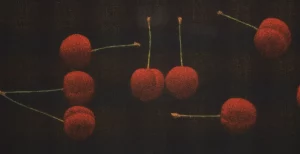 Yozo Hamaguchi was a Japanese artist well-known for his bold color mezzotint prints. Hamaguchi was responsible for re-introducing mezzotint printmaking during the 20th century. Through the copper-plate engraving technique, Hamaguchi offered a still-life-like effect to his work. His artworks were notable for balancing color tones and textures. The upcoming Freeman's auction presents Seventeen Cherries by Yozo Hamaguchi. The color mezzotint print is noteworthy for its calm and detailed elements.
Another highlight is a wrought iron study by Samuel Yelling for the UGI Building in Pennsylvania. The master metal designer's work was notable for its artistic independence and functionality. Yellin often stated, "Ironwork must not come out simply as a barrier, instead, it should create a visual connection between people and structures." The available iron sketch is similar to the medallions on the UGI Building gates. Also featured is partial glass-handled flatware set by renowned glassmaker Frederick Carder. The circa 1929 set is composed of sterling silver and plain lead glass.
The auction also offers a serigraph titled Kiss V by Pop artist Roy Lichtenstein. The available screenprint presents a similar composition to Kiss II and Kiss III. The artwork depicting an embracing couple utilizes Ben-Day dots. This Art and Design sale also showcases furniture by Gustav Stickley, Knoll, and Herman Miller. Interested collectors can explore the entire catalog and register to bid online by visiting Freeman's.
Price Range:
$500 - $12,000
Interesting lots include:
| Item Image | Item Name | Estimate |
| --- | --- | --- |
| | Seventeen Cherries By Yozo Hamaguchi. | Estimate: $8,000 - $12,000 Starting Bid: |
| | Sketch In Iron By Samuel Yellin. | Estimate: $4,000 - $6,000 Starting Bid: |
| | Twenty-Piece Partial Glass-Handled Flatware Set By Frederick Carder. | Estimate: $2,000 - $3,000 Starting Bid: |
| | Kiss V By Roy Lichtenstein. | Estimate: $1,500 - $2,500 Starting Bid: |
| | Gustav Stickley, Limbert's, Etc. | Estimate: $700 - $900 Starting Bid: |
Contact Info
Freeman's

2400 Market St, Philadelphia, Pennsylvania 19103
215-563-9275