Updated on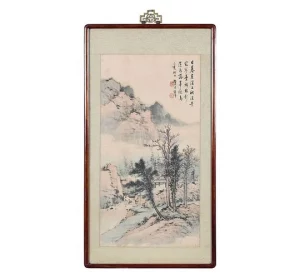 White Korean porcelain from the Joseon dynasty first emerged during the 15th century. These wares were particularly valued for their cobalt blue designs, which soon went out of production due to the rising costs of cobalt. The upcoming Brunk Auctions event presents a Korean underglaze blue porcelain vase from this period. The available Meiping form vase features two dragons who are trying to catch flaming pearls among clouds.
Also showcased is a river landscape by contemporary and modern painter Huang Junbi. He was one of the three renowned ink painters of China who were together known as "The Three Masters Crossing the Sea." During his journey to Taiwan, Huang developed his mountains and waterfall theme to portray their grandeur. The offered watercolor and ink painting reflects the artist's idea of using traditional Chinese brushwork to convey feelings.
A Chinese famille noire porcelain vase is notable among the porcelain articles in the catalog. The black ground and enamel decorated porcelain flourished during Empress Cixi's rule and piqued the interest of European collectors. The featured vase has a Qianlong seal, golden guardian dog handles, and peonies and fruits. The auction also offers Japanese lacquerware trays and boxes, bottle vases, jade articles, Chinese furniture, bronze figurines, and scroll paintings. Interested collectors can explore the entire listings and register to bid online on Bidsquare.
Price Range:
$300 - $7,000
Interesting lots include:
| Item Image | Item Name | Estimate |
| --- | --- | --- |
| | Korean underglaze blue porcelain Dragon vase. | Estimate: $5,000 - $7,000 Starting Bid:$2,400 |
| | Chinese Dragon silk court robe. | Estimate: $2,000 - $4,000 Starting Bid:$1,000 |
| | River landscape by Huang Junbi. | Estimate: $4,000 - $6,000 Starting Bid:$2,000 |
| | Five Japanese Maki-e lacquerware trays and boxes. | Estimate: $800 - $1,200 Starting Bid:$400 |
| | Japanese Kutani bottle vases. | Estimate: $100 - $300 Starting Bid:$50 |
Contact Info
Brunk Auctions

117 Tunnel Road , Asheville, North Carolina 28805
828-254-6846