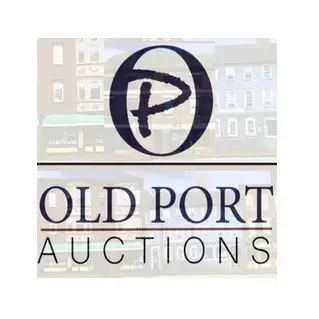 Italian Masters Canaletto and Giovanni Paolo Panini Lead Old Port Auctions Event
Aug 21, 2021 13:00 EDT
Updated on
At a young age, Giovanni Antonio Canal entered the artistic circles of early 1700s Venice. His father, Bernardo Canal, was a famous theater artist in his own right. The younger Canal learned scene painting from his father but was unsatisfied with his style. He eventually joined the growing Venetian school and established himself as a vedute or view painter. The artist later signed his work as 'Canaletto,' or 'little Canal.' A city view painting attributed to Canaletto will lead Old Port Auctions' upcoming Masters of Art Auction Series – Volume III. The oil on copper painting offers a view of the sea through several Classical buildings and arches. Canaletto's signature is faintly visible on the back of the piece.
Among Canaletto's early influences was Roman painter Giovanni Paolo Panini. In the early 18th century, Panini helped popularize vedute paintings. He also included capriccio or imaginative architectural elements in his works. A painting attributed to Panini will be available in the upcoming Masters of Art sale. This piece shows several groups of people gathering among stone ruins. Two figures in the foreground gaze together at a low-relief sculpture, evidently admiring its details. Other available Panini pieces depict soldiers standing around sunlit ruins and elaborate natural landscapes.
Beyond Italian artworks, this auction offers fine art from across Europe and North America. Modern offerings in the catalog like an oil painting of Boston's skyline by Robert Solotaire, a Pop Art banana print from Andy Warhol, and an untitled mixed media work by Roberto Matta are also available. Part of the hammer price of all sold items will be donated to the Maine Audubon Society, which works to conserve and protect wildlife in New England. They work to conserve and protect wildlife in New England. Register to bid and view the catalog on Bidsquare.
Price Range:
$600 - $1,000,000
Interesting lots include:
| Item Image | Item Name | Estimate |
| --- | --- | --- |
| | RARE Circa 17th C. - Belgian Oil with verso Stamp | Estimate: $80,000 - $120,000 Starting Bid:$10,000 |
| | Giovanni Antonio Canaletto (1697-1768) Attrb. Signed | Estimate: $750,000 - $1,000,000 Starting Bid:$10,000 |
| | Giovani Paolo Panini (1691 to 1765) - Attributed | Estimate: $30,000 - $50,000 Starting Bid:$2,000 |
| | Monumental Boston Oil by Robert Solotaire (1930-2008) | Estimate: $3,000 - $5,000 Starting Bid:$500 |
| | Andy Warhol (1928-1987) Studio 54 (Attributed) | Estimate: $5,000 - $8,000 Starting Bid:$500 |
| | Susan E.C. Allen - Signed and Dated 1903 | Estimate: $800 - $1,000 Starting Bid:$200 |
Contact Info
Old Port Auctions

322 Fore St, Portland, Maine 04101
207-772-6032