From Museum-Worthy Renoir Paintings to Qing Dynasty Antiques, Millea Bros. Presents Three-Day Extravagant Auction
May 19, 2022 10:00 EDT
Updated on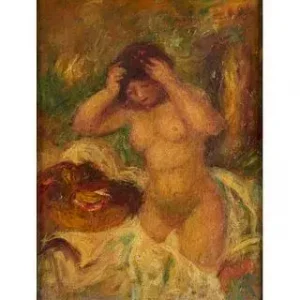 The upcoming auction by Millea Bros. is a three-day event that will showcase more than 1,000 lots. The first day features Modern art. Highlights include a Fernand Léger gouache, a Richard D. MacDonald bronze sculpture, Alberto Giacometti drawing, and works from the collection of Wolf Kahn & Emily Mason. Kahn and Mason were an inseparable couple. Both esteemed artists loved collecting art. This session includes paintings by Emily Mason, Virgilio Guidi, Jake Berthot, Guido Strazza, and Pat Adams. Highlights from modern design include two Folke Bensow Swedish Art Deco iron tables, a rare pair of Josef Hoffmann side chairs, a fine and early George Nakashima free edge sideboard, and a signed lacquered game board by Jean Dunand. The session concludes with modern fashion and jewelry, including three vintage Mariano Fortuny evening gowns.
Day 2 of the Millea Bros auction is dedicated to fine art and antiques. Highlights among art are a Pierre-Auguste Renoir oil on canvas, an 1850 Edward William Cooke landscape of the Villa Borghese, a Francisco Goya attributed drawing, and a group of first edition Goya etchings. Pierre-Auguste Renoir encountered art as a young boy at the Louvre. He started painting to pay the bills after becoming jobless as a porcelain maker. He couldn't afford much, so a young Renoir often stayed with friends and borrowed materials to paint. Renoir's oil painting of a bather arranging her hair is available in the auction. It was painted in 1893 and is signed by the artist.
Day 3 features museum-quality examples of African, Oceanic, and Pacific Northwest objects. They come from the Faith and Martin Wright Collection. Highlighted lots are an Aleut chief hunting hat, two 19th-century Haida raven rattles, a monumental figurative feast bowl, and a Santa Cruz Kapkap pendant. Aleutian people hail from the Aleutian Islands in Alaska. They have lived in the region for thousands of years in extremely harsh weather conditions. Notable Chinese lots include a large Ming-era portrait fresco, finely carved jades, and a Qing-era export pedestal desk. Find the listed items and other online auctions on Bidsquare.
Price Range:
$300 - $25,000
Interesting lots include:
| Item Image | Item Name | Estimate |
| --- | --- | --- |
| | Important Aleut closed-crown chief hunting hat | Estimate: $40,000 - $60,000 Starting Bid:$20,000 |
| | Richard MacDonald, bronze, 1993 | Estimate: $15,000 - $25,000 Starting Bid:$7,500 |
| | Pierre-Auguste Renoir (attrib.), oil on canvas | Estimate: $6,000 - $8,000 Starting Bid:$3,000 |
| | Jean Dunand (signed), lacquered games board | Estimate: $2,000 - $3,000 Starting Bid:$1,000 |
| | Large Continental bronze mounted faience box | Estimate: $300 - $500 Starting Bid:$150 |
| | Indo-Persian erotic illuminated manuscript page | Estimate: $200 - $300 Starting Bid:$100 |
Contact Info
Millea Bros. Ltd.

607 Myrtle Avenue, Boonton, New Jersey 7005
973-377-1500