Theodor Kärner Master Modeller, Celebrated Sculptor
Known primarily for his highly popular and prized animal figurines, Professor Theodor Kärner (1884-1966) was one of Germany's most distinguished porcelain artists. Kärner's master craftsmanship and artistry were key to his employment at several prominent German porcelain factories over the course of his career, including Nymphenburg, Rosenthal, Allach, and Eschenbach.
Kärner was born in Hohenberg an der Eger on January 10, 1884. He was trained as a modeller at Hutschenreuther Company in Northern Bavaria from 1898 to 1903, and afterwards attended the Bavarian Royal Art School in Munich, taking classes in decorative sculpture. Kärner was a guest student at the Academy of Fine Arts in Munich between 1914 and 1921, where he took classes from Professor Heinrich von Reins (1850-1941), a painter of animals. Perhaps this is where he developed an interest in, and a keen eye for, animal subject matter.
Much more scarce than his animal figures, Kärner's military subjects were quite popular in Germany. In 1934 Kärner was hired as artistic director at Allach (Porzellan Manufaktur Allach). The production at Allach emphasized decorative ceramics that celebrated and idealized German culture, including peasants, rural themes, soldiers, and historical figures. It was at Allach where Kärner produced a limited quantity of figures of Prussian cavalry units, known as Hussars. They would be some of the most rare equestrian figures produced by Allach, two of which were first exhibited together at the Great German Art Exhibition in Munich in 1942.
Ahlers & Ogletree Auction Gallery is pleased to present Theodor Kärner's color glazed Malachowsky Hussar von 1771 (model number 121) as lot 317 in their upcoming October 20th, 2019 auction. A similar color glazed porcelain sculpture by Kärner, Zieten Hussar von 1756 (model number 115), sold in May of 2018 for €34,000 at Hermann Historica Auction in Munich. Ahlers & Ogletree Auction Gallery sold a blanc de chine equestrian figure by Kärner for $30,250 at their June 11, 2017 as lot 1020.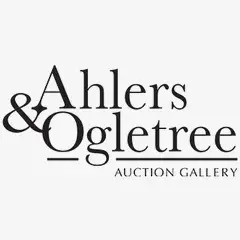 Follow