Peachtree Battle Living Asks: What is the Most Interesting Piece You Have Sold?
The world of antique auctions and estate sales is full of people with interesting stories to tell and replete with mysteries. In the era of PBS's Antiques Roadshow, people en masse are beginning to understand and appreciate the wild collectability of items ranging from antique French sideboards and vintage arcade games to signed modern lithographs and antique porcelain urns. Whenever I meet people for the first time and they find out what my job is, the first question out of their mouth is always "what is the most interesting piece you have sold?". I've compiled here a short treasury of my favorite things sold at Ahlers & Ogletree Auction Gallery in the last 3 years, things that have taught me lessons and things that have blown me away with their beauty.
There are few faces in modern art more recognizable than Andy Warhol's portrayals of Marilyn Monroe, so when we were consigned a 1967 serigraph of the actress I was excited to gain first-hand experience with the icon. The beauty is presented at bust length in neon green, yellow, and pink and is signed in pencil by the modern master. This particular print came from the Collection of Benno & Babette Rothschild of Columbus, GA whose incredible estate of modern print work we had the pleasure of selling at auction in January 2016. The 11" x 11" print brought nearly $24,000 in our January 2016 auction.
For our October 2015 "Objets d'Art: Period Glass & Decorative Arts" auction, a stunningly beautiful piece of art glass came in from a living estate in Suwanee, Georgia. Identified by one of our specialists, Laura McCracken, the 5" tall 19th century French gilt metal and enamel adorned iron shaped opaline glass box was absolutely exquisite. Without any apparent comparables in recent auction history we assigned a conservative pre-auction estimate that was blown out of the water on auction day when the sad iron sold for $18,800 to an overseas buyer.
Next, for the same sale in October of 2015 we received a very unique mixed metal water pitcher with a heavy layer of tarnish on it. It came from the estate of a lifelong collector from Lawrenceville, GA who focused on American Aesthetic Movement and Victorian era items, and we were informed by her daughters that this pitcher was the first piece she ever purchased at the ripe age of 16. Given my interest in sterling silver, I dove into researching the piece and discovered its importance in the American silver tradition. The pitcher comprised a hand chased solid sterling silver body "wrapped" with palm fronds over a hammered ground and copper dragonflies applied to two front panels. You could intuit when holding the pitcher that it was significant, and the public agreed by more than doubling the pre-auction estimate with a selling price of $27,900.
And finally, the first piece of furniture that I fell in love with at one of our auctions: a stunning example of American Southern states furniture in the form of a Federal Period cherry and yellow pine chest of drawers. It was so striking in its simplicity, and the wood had a beautiful warm honey tone that seemed to ooze Southern charm. On top of its physical beauty, the chest came from the Estate of Sam & Florence Inman – Sam descended from Samuel M. Inman I for whom the Inman Park neighborhood was named and who was one of the founding fathers of Atlanta as we know it now. Ahlers & Ogletree had the honor of selling the Inman's estate in August of 2015 with this piece being a highlight hammering for over $15,000, nearly six times its low estimate.
I encourage everyone to visit a live auction at some point. Not only can you experience some fascinating works of art and have the opportunity to purchase one-of-a-kind treasures, but the people watching is also stellar. Our live auctions are also the perfect platform in which to sell your collection or an estate when the time comes. Ahlers & Ogletree hosts 4-8 live auctions each year, all open to the public with no admission charge. We are conveniently located on Miami Circle and would love to welcome auction first-timers and veterans alike.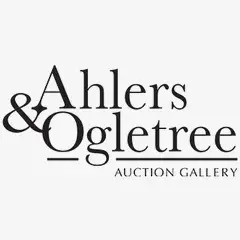 Follow