A Third Thursday Discovery Feature: Colorful Fruit Labels from The Golden State

The first time I ever lived, worked, and bought groceries on my own I was living Louisiana. At least once a week I would walk just over a mile and a half to a small, local grocery store in New Orleans called Langenstein's to buy food and whatever else I might need for the days ahead. Something that struck me every grocery run, whether it was standing in the aisle of the store or unpacking groceries in front of the fridge in my apartment, was that nearly all the of fruit, most certainly all of the berries, I bought in New Orleans came from the California. I like to imagine every strawberry I ate in the South making a voyage from the West Coast to Louisiana — a journey that mirrored my own movement from Sacramento to New Orleans.

For the month of June our Third Thursday Auction features fruit labels, more specifically California fruit labels from the late 19th and early 20th centuries. Fruit labels are the colorful prints originally affixed to the outside of the wooden crates that were used to transport fruit from California to destinations all over the United States. Witherell's received this wonderful and unique collection from Donna Holmes, who discovered these well-preserved, stunningly vibrant fruit labels in a suitcase high on a closet shelf in her parents' home over 20 years ago.
When Ms. Holmes stumbled upon the fruit labels, she was also uncovering a bit of family history about her grandmother and her great aunt. Christine and Rebecca Suhr, born two years apart in the late 1870s, were orphaned at a young age and became the wards of Charles R. Gray, a lawyer who ended up mismanaging much of the girls' family money. After Rebecca (Ms. Holmes' grandmother) graduated from San Bernardino High School she was accepted at Stanford University and Christine, in order to help support her younger sister and put her through college, began working for A.G. Stearns Packers and Shippers of Highland Oranges and Lemons. She worked for the company from 1900 until 1920, first as a bookkeeper and eventually as an office manager. The collection of fruit labels Ms. Holmes discovered inside the suitcase had belonged to her great-aunt Christine. The collection includes labels made for A.G. Stearns as well as other well-known fruit packers, shippers, and wholesalers, including the Earl Fruit Company, West Highlands Citrus Association, and Ruddock, Trench & Company. These hidden art pieces are not only a testament to Ms. Holmes' family story, they are also a window into the past, providing a small glimpse of California's unique agricultural history.
Several factors serendipitously came together in the latter half of the 19th century, setting the stage for the development and popularization of fruit labels. America's economy was expanding from local retailers to national sellers and mass merchandizers (think, Sears); in 1869 the railroad officially connected the East Coast to the West Coast; and by the end of the 19th century, with the increase in literacy and the subsequent proliferation of print media, color lithography became more affordable than ever before. All kinds of goods were being produced, packaged, and shipped from different areas to buyers all over the country and these goods included fresh California produce. Advancements in technology like new refrigerated rail cars, agricultural developments including the introduction of pesticides and fertilizers, as well as the growing population in the West also played a significant role in encouraging the growth of a national produce industry in the West.
A nearly perfect moderate climate along with fertile soil and vast, diverse resources make California one of the best places in the world to grow produce. All kinds of different fruits and vegetables thrive and are farmed here, but there are a few fruits that California is known for. Many of the fruit labels in our auction were specifically designed to advertise "California Oranges." Farmers in California's valleys grew the produce while large corporations that specialized in canning and packing, as well as marketing and shipping, would put the goods into circulation. These companies were responsible for properly presenting and packaging the produce, contracting with railroads and transportation companies, and actually selling to retailers and other clients across the country. It was these companies who would essentially create the brand — physically pack the fruit into small wooden crates — and whose name typically appeared on the iconic packing labels.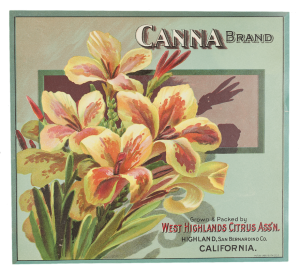 The peak or so-called "Golden Age" of fruit crate labels is considered to be from about 1890 to 1940. In the late 19th century many family farms shipped their own products and used their own labels. But, as the industry grew, smaller family-run farms began looking to fruit exchange corporations, member-owned cooperatives, and/or packing and shipping companies to more efficiently process and effectively package their goods. Some larger companies like the West Highlands Citrus Association did both the growing and the packaging, making sure to state this on their packing label (see above). Even though these labels are intentionally artistic and were clearly painstakingly designed, in general these works are not attributable to any particular person or individual creator, simply identified as the product of the design department of a lithography company.
The labels helped to identify the fruit in the wood crates – who packed it, shipped it, and where it came from – but they were also created by artists with the intent of appealing to the customer. One of the primary ways this was done with California fruit labels was to illustrate the beautiful landscape where the delicious fruit was grown. Consumers would see the rolling hills with orchards and know that the fruit coming from such a sunny paradise must taste just as wonderful as it looks. Images of fruit were often featured alongside flowers (floral themed brands were very popular: "White Rose Brand," "Camellia Brand," "Azalea Brand," "Germanium Brand"), serving to visually emphasize the fertility of the land and to evoke the beautiful and distinct floral scent of fresh fruit. Some labels featured images that potential customers would associate with the West including depictions of particular landscape scenes ("Yosemite Brand"), Native Americans ("Minnehaha Brand"), and certain animals ("Bison Brand" and "Antler Brand").

Most of what we buy today, particularly what we purchase in the supermarket, is packaged and labeled. The label's job is basically two-fold: to entice and to inform. The product's packaging is what makes the initial appeal for purchasing while the information on the label is often what seals the deal, so to speak. Like the baseball cards and comic books we have previously auctioned, the fruit labels are strikingly graphic. They blur the lines between what is a simple object from the past, cultural material, and what is art.
While fruit labels are not what many would consider "high art," that doesn't mean that there isn't beauty or sophistication in the creation. Art is unique because it is not (usually) inherently valuable; we ascribe value and often assign a particular meaning to all of the different types of artwork we encounter. And because these fruit labels belong to history, cherishing them and collecting them, or even just looking at them and appreciating the story they tell, is a way of preserving the past.