Starting: $75,000
The Mackey-Gregory Hooded Merganser Pair
Ira Hudson (1873-1949)
Chincoteague, VA, c. 1925
13 in. long
Hooded mergansers are sometimes referred to as "hairy heads" due to their crests. Ira Hudson stylistically embraced the challenge of making a functioning hooded merganser decoy by creating a whimsical, slicked back, and racy-looking hen. Complementing her, he gave the drake a more serious-looking persona, reminiscent of a Roman centurion soldier. This amusing tension, along with their rarity, lies at the heart of the collectability of these Hudson "footballs," one of the most iconic pairs of Southern decoys known to exist. Collectors have long understood the scarcity of hooded merganser decoys. Similar to buffleheads, dedicated gunning rigs are not necessary for attracting hoodies. Examples of decoys by known makers that have been embraced by the collecting community include singular works by Joseph Lincoln (1859-1938), William Hart (1875-1946), and Lloyd Tyler (1898-1970), each of which approached or topped the $200,000 mark.
Early collector Roy Bull (1911-1982) and his wife, Lula, obtained all six hooded mergansers in this important Hudson rig sometime in the late 1960s or early 1970s. Within this esteemed rig, there were only two drakes. The Bulls kept the other pair. Those two carvings subsequently became key acquisitions in the collections of leading decoy collectors Bill Purnell, Tom Figge, and Paul Tudor Jones II.
The Bulls, who were friends with Bill Mackey, were two of the most important early collectors of Southern decoys. They would go on to amass approximately 1,700 decoys during their lifetimes, including top-tier carvings by the Cobbs, the Wards, Birch, and Hudson. Mackey obtained these two prized decoys directly from the Bulls and proceeded to exhibit them extensively.
The decoys were next acquired by Americana and folk art collecting legend Stewart E. Gregory (1913–1976), who also acquired the top two Earnest dovetailed geese. Gregory was both the vice president and a trustee of the American Folk Art Museum during the 1960s and 70s.
Gregory's collection contained numerous pieces acquired from early and noted dealers, including Mary Allis (1899-1987) and Adele Earnest (1901-1993). The Collection included works by Ammi Phillips (1788-1865) and Erastus Salisbury Field (1805-1900), as well as decoys, hooked rugs, weathervanes, and tinware. In 1972 the American Folk Art Museum held the landmark exhibition An Eye on America: Folk Art from the Stewart E. Gregory Collection.
In 1978 this merganser pair was sold by the Gregory Estate through Richard A. Bourne. His broader collection, titled Important American Folk Art and Furniture: The Distinguished Collection of the Late Stewart E. Gregory, Wilton, Connecticut, was sold by Sotheby Parke-Bernet, Inc. in 1979. According to American Folk Art Museum director Gerard C. Wertkin, the Gregory Sale "is often considered a watershed in the field because of the widespread public interest that it engendered and the high prices that it realized. Indeed, many of the finest works acquired by Gregory are now in the collections of important American museums."
The football-shaped Mackey-Gregory mergansers, with their pronounced crests and fluted tails, are two of the most animated and recognizable carvings within the field of Southern decoys. Adding to this, in Hudson's distinctive style, the drake's head, body, and tail turn gently to the left. The paint on the backs of each bird is striking, showcasing the maker's very best scratch feathering.
Offered here for the first time since 1978, this pair boasts an equally impressive lineage as the Purnell-Figge-Jones pair. Muller's tenacity in hunting down the very best of the Mackey decoys is on full display in these mergansers. Flipping them over, the two collecting moguls' ink stamps are seen side by side.
Original paint with even gunning wear, restoration to the hen's bill and along the top of drake's crest, less than ½ inch high, and a few age lines at neck bases with minimal touch-up.
Provenance: Roy and Lula Bull Collection
William J. Mackey Jr. Collection, acquired from the above
Stewart Gregory Collection, acquired from the sale of the above, 1973
Dr. Peter J. Muller Jr. Collection, acquired from the sale of the above, 1978
Literature: Richard A. Bourne Co. Inc., "Very Rare and Important American Bird Decoys from the Collection of the late William J. Mackey, Jr. of Belford, New Jersey," July 17, 1973, Session I, lot 283, exact pair illustrated.
Richard A. Bourne Co., Inc., "Rare American Bird Decoys, Bird Carvings, and Related Materials," Hyannis, MA, July 1978, lot 582, exact pair illustrated.
Henry A. Fleckenstein Jr., "Southern Decoys of Virginia and The Carolinas," Exton, PA, 1983, p. 34, exact pair illustrated.
Hal Sorenson, ed., "IBM Exhibits Mackey Decoys," Decoy Collector's Guide, 1966-1967, p. 48, exact pair illustrated.
Joe Engers, ed., "The Great Book of Wildfowl Decoys," 1990, p. 152, Jones' pair illustrated.
Loy S. Harrell Jr., "Decoys: North America's One Hundred Greatest," Iola, WI, 2000, p. 173, Jones' pair illustrated.
Robert H. Richardson, "Chesapeake Bay Decoys: The Men Who Made and Used Them," 1991, p. 139, Jones' pair illustrated.
Sam Dyke et al., "Classic Hunting Decoys & Sporting Art," Salisbury, MD, 1994, p. 2, exact pair illustrated.
Joe Engers, "Dr. Peter J. Muller: Bringing a good eye and an artistic approach to decoy collecting," Decoy Magazine, January/February 2008, pp. 8-9, exact drake illustrated.
Robert Shaw, "Bird Decoys of North America," New York, NY, 2010, p. 212, exact pair illustrated.
Exhibited: Manhattan, New York, "The Decoy Maker's Craft," IBM Gallery of Arts and Sciences, August 29-October 1, 1966.
St. Paul, Minnesota, "American Bird Decoys Selected from the Collection of William J. Mackey Jr.," St. Paul Art Center, September 28-November 12, 1967.
Oshkosh, Wisconsin, "American Bird Decoys Selected from the Collection of William J. Mackey Jr.," The Paine Art Center and Arboretum, December 2-31, 1967.
Salisbury, Maryland, "Classic Hunting Decoys & Sporting Art," Ward Museum of Wildfowl Art, September 20, 1994-January 1, 1995.
Condition
Please email condition report requests to [email protected]. Any condition statement given is a courtesy to customers, Copley will not be held responsible for any errors or omissions. The absence of a condition statement does not imply that the lot is in perfect condition.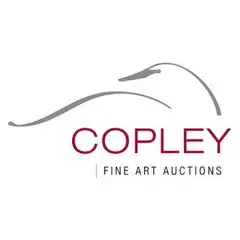 Live Auction
Start: Feb 15, 2020 10:00 EST