Winning Bid: $65,000
The Harmon Running Cobb Curlew Decoy by Nathan F. Cobb Jr. (1825-1905):
The Harmon Running Cobb Curlew
Nathan F. Cobb Jr. (1825-1905)
Cobb Island, VA, c. 1880
15 1/2 in. long
"Every Nathan Cobb decoy had its own natural pose. Even his Hudsonian Curlews seemed to run, feed, and walk." – William J. Mackey Jr., discussing a Cobb curlew in "American Bird Decoys," plate VII
"An original box of goose eyes found in Nathan's shed shows that he sent to Germany for them and obtained the finest." – William J. Mackey Jr., "American Bird Decoys"
Nathan Cobb Sr. sailed his family south from Eastham on Cape Cod to the Eastern Shore of Virginia where they began to settle around 1837. The family brought with them their native Massachusetts decoy concepts, including German bead-glass eyes and the refined split-tail carving style adopted by Lothrop Holmes, A. Elmer Crowell, and Joseph Lincoln. Over time, the Cobbs evolved this style into one of their own with robust elements and their signature ridged backs.
A dynamic, yet well-balanced decoy, this curlew exhibits pleasing proportions. The reaching and gracefully rounded head is cocked ever so slightly to the right with an inquisitive gaze and is finished with full cheeks topped by deep eye grooves and German bead-glass eyes. Under the thin neck, the grand body resolves with a precise Cobb Island tail cut. This confident carving, featuring the Cobb's laconic feathering, represents the pinnacle of the Southern standard.
This curlew, with its original paint, crisp clean lines, and original bill, is among the very finest shorebirds that survived the remote island's storm-wrecked history. Cobb curlews in any pose are highly sought after, and the running models have been among the most coveted decoys of all time. Indeed, on three occasions they have posted auction results over $200,000, more showings than any other maker's curlew. The closest known comparable to this lot was acquired by Dr. Lloyd T. Griffith at auction in 2006 for $390,000, a record for any Southern decoy at the time. This lot is surfacing for the first time in the modern collecting era after residing quietly in private collections, including most recently the distinguished collection of Ted and Judy Harmon, who are heralded for collecting some of the finest Massachusetts shorebird decoys.
Excellent original paint with even gunning wear. Original bill has minute traces of black overpaint.
Provenance: Ted and Judy Harmon Collection
Literature: Dr. S. Lloyd Newberry, "Wings of Wonder: The Remarkable Story of the Cobb Family and the Priceless Decoys They Created on Their Island Paradise," Columbia, SC, 2020, p. 166, initials discussed, p. 168, closely related record-setting decoy illustrated, pp. 248-249, related curlew illustrated. William J. Mackey Jr., "American Bird Decoys," New York, NY, 1965, color pl. VII, curlew with plover bill illustrated. Robert Shaw, "Bird Decoys of North America," New York, NY, 2010, p. 214, McCleery's Cobb curlew illustrated. Henry A. Fleckenstein Jr., "Southern Decoys of Virginia and The Carolinas," Exton, PA, 1983, pp. 206-211, Cobb curlews illustrated. Kory W. Rogers, "Birds of a Feather,"Shelburne, VT, 2017, p. 130, related examples illustrated.
ConditionPlease email condition report requests to [email protected] Any condition statement given is a courtesy to customers, Copley will not be held responsible for any errors or omissions. The absence of a condition statement does not imply that the lot is in perfect condition.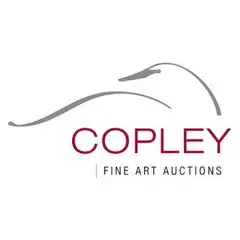 Live Auction
Start: Feb 24, 2023 10:00 EST