Starting: $7,500
Rare Chancay Polychrome Figures Male, Female TL'd:
Pre-Columbian, North Coast Peru, Chancay, ca. 800 to 1200 CE. An impressive and rare pair of terracotta cuchimilco figures – a male and a female – wrapped in woven textiles of orange, tan, peach, and cream hues. Both figures stand atop delineated legs and feature a welcoming pose with stubby arms outstretched and their heads pointed skyward. Their faces are comprised of almond-shaped eyes, protruding pinched noses, and petite ears. Carrying a satchel containing a dehydrated husk of maize and corn kernels, the male displays an erect phallus which projects from beneath his garments. The female exhibits pointed breasts and incised genitalia surrounded by a triangle that highlights her pubic area. Characteristically left unglazed, pigments of burnt sienna, black, grey, peach, and white decorate the white slip surface of both fascinating figures, emphasizing the whites of their eyes and teeth and also representing face and body paints. An intricately decorated headband of geometric motifs wraps around the flat head of the female figure. The male is embellished with three spikes that cap his head, acting as an elaborate coiffure or headdress, swaddled with a band of cloth. Size: 8.75″ W x 17.5″ H (22.2 cm x 44.4 cm)
The Chancay people were exceptional ceramic and textile artisans, and archaeologists have often found cuchimilcos in the tombs of Chancay nobility. Some scholars believe that their outstretched hands were intended to absorb negative energy. Chancay artisans created ceramics that are quite distinctive in form and decoration – finely painted and molded with specific decorative details carefully added by hand as we see in this example.
Like these two examples, Cuchimilco figures are often found in pairs of male and female, indicating the importance of divine duality. Archeologists posit that these charming pottery figures were intended to ward off bad spirits or energies.
This piece has been tested using thermoluminescence (TL) analysis and has been found to be ancient and of the period stated. A full report will accompany purchase.
This piece has been searched against the Art Loss Register database and has been cleared. The Art Loss Register maintains the world's largest database of stolen art, collectibles, and antiques.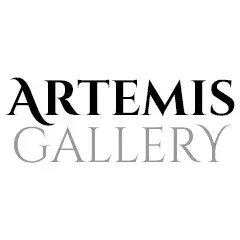 Live Auction
Start: Apr 08, 2021 10:00 EDT
End: Apr 09, 2021 04:40 EDT