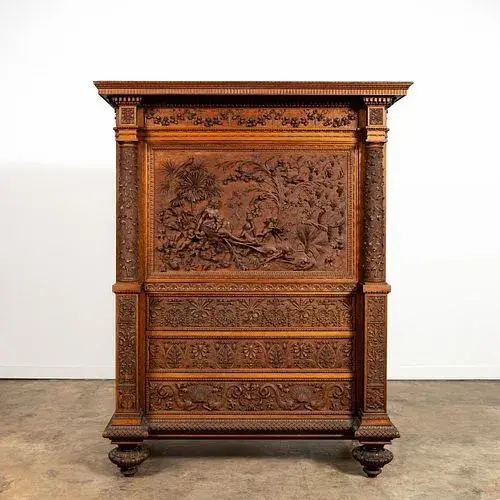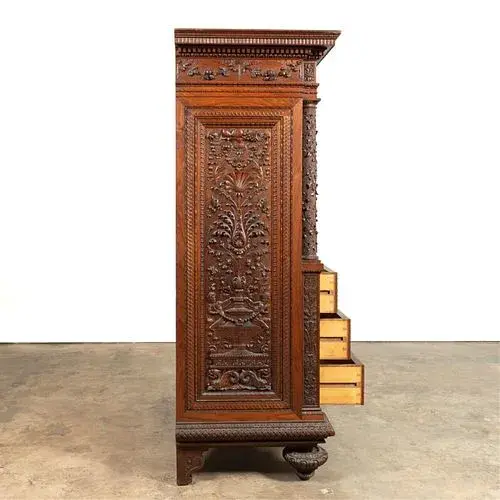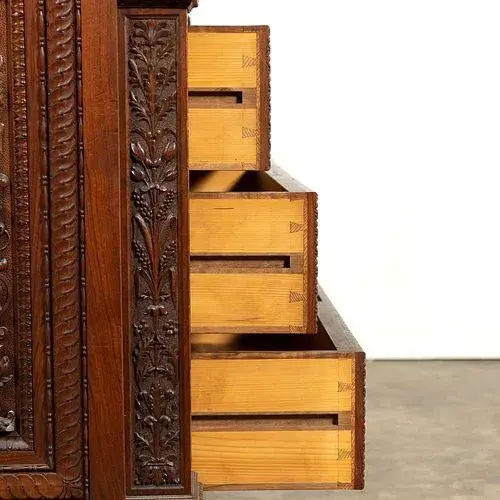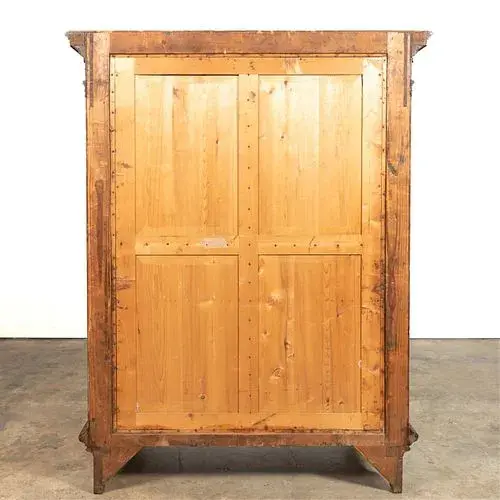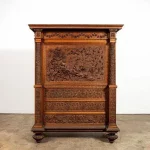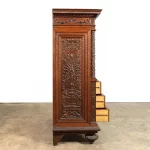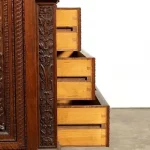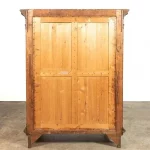 Winning Bid: $25,000
Luigi Frullini Mythical Carved Walnut Secretary:
Luigi Frullini (Italian, 1839-1897), second half 19th century. Exuberantly carved Italian Renaissance revival walnut secretary desk, having a shaped overhanging rais-de-coeur cornice, frieze with garlands of fruit including pomegranates, supported by column-form pilasters with foliate detail on plinths decorated with griffin supported urns issuing scrolled florals, the fall front panel decorated with a mythical scene depicting Venus suckling Cupid in her sea chariot borne by two dolphins with putti, set against a lushly carved background of fruit and palm trees with grape vines and Frullini's signature birds, the interior fitted, below three drawers, the top two with classical elements including anthemion, the lower drawer with scallop shells flanked by dolphins, the side panels with satyrs and female sphinxes flanking urns issuing scrolled florals, and rising on a basketweave apron with front toupie feet. Signed to front plinths "Fiorenza" and "Frullini". Note: The Florence born Luigi Frullini was often called the Donatello of wood carvers with works shown at the 1862 London International Exhibition, 1867 and 1878 Paris Expositions Universelles, and the 1893 Chicago Columbian Exposition. The most complete example of his interior work can be seen at Chateau-Sur-Mer, Newport, RI. Examples of his work are in the permanent collections of the Victoria & Albert Museum, London, the Metropolitan Museum of Art, New York, and the Musee d'Orsay, Paris.
Condition
Small area of loss to the front left edge of cornice; locks removed from the fall front panel and lower drawers; very minor non-distracting losses to carving; no apparent restorations; case is structurally sound.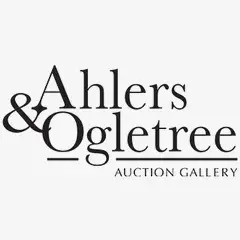 Live Auction
Start: Jan 16, 2022 10:00 EST
End: Jan 17, 2022 11:58 EST