Winning Bid: $35,000
Exceptional Swimming Merganser Decoy:
Exceptional Swimming Merganser
North Shore, MA, c. 1890
17 1/2 in. long
This hollow swimming merganser is among the finest decoys discovered in decades. As this Massachusetts masterpiece makes its public debut, no other decoys from this rig are known to have surfaced in any auction to date. Like the goose, the red-breasted merganser has been a muse for many of the great known and unknown Atlantic carvers. A thorough review of the finest mergansers confirms that this carving stands on its own as one of the greatest extant, and it is certainly second to none among all hollow examples of this species.
The sleek body stretches forward to a raised neck seat topped by a highly refined reaching head, turned slightly to the left. The delicate bill is trimmed with incised mandible carving. Topping the head is a ridged crest running from the crown to the nape with a rasp finish capturing the texture of the wet shaggy feathers after a dive. The lightweight body features refined raised wing tip carving and a thin tail. A round beveled weight and thin bottom board complete the underside of the decoy and it appears to have had a wooden keel at one time. The surface is finished with softly blended paint and sharp wing patches. Given its fragile features, the decoy has survived in remarkably good condition. It is being offered here in its discovered state with no touch-up or repairs.
Bob Shaw demonstrates in the opening salvo to his Massachusetts chapter, one cannot discuss the unrivaled region's great decoys without embracing the unknowns. As he makes clear, masterworks such as this easily rise above the trivia of attributions. That said, naturally this swimmer's origin is being explored. Only two other decoys from this rig are known and all are in the same plumage. The other two are in upright positions, but no raised wing carving. One is in a prestigious private collection where it shares space with exceptional works from the North Shore, Massachusetts, rigs of Capt. Samuel A. Fabens, Fred M. Nichols, and Capt. Charles Osgood. The features of this lot place it firmly in region, and some believe it is in fact a Nichols decoy as the style relates closely to works identified from his rig. While more sleek and detailed than an Osgood or even a Fabens merganser, the form and construction appear to have a common origin with the latter. Gigi Hopkins reveals that Fabens and Nichols were both guests at the prestigious Ives Camp in Rowley, Massachusetts, which was co-founded in 1853 by none other than Capt. Charles C. Osgood (1820-1886).
"The Massachusetts region, which includes coastal New Hampshire, Cape Cod, the islands of Nantucket and Martha's Vineyard, and the state of Rhode Island, arguably produced more first-quality decoys than any other area of the country and was home to a number of the decoy's greatest artists, including such masters as Elmer Crowell, Joe Lincoln, Lothrop Holmes, and George Boyd.
"Massachusetts also produced several of the greatest as yet unidentified carvers. Many of the region's most accomplished and inventive nineteenth-century shorebird carvers have never been identified, while a uniquely constructed group of geese and red-breasted mergansers is attributed by oral tradition to a Salem sea captain named Charles C. Osgood, although whether he actually made them or not may never be known. One unidentified master carved a rig of astonishing animated shorebirds for Dr. John C. Phillips, a wealthy sportsman and amateur ornithologist who was also one of Elmer Crowell's most important patrons, while another made equally remarkable geese and shorebirds with tightly fitting, removable dovetailed heads." – Bob Shaw, "Bird Decoys of North America"
Excellent original paint with light gunning wear, some chipping to tail edge, and head is slightly loose.
Provenance: Private Collection, Massachusetts
Literature: Gwladys Hopkins, "Massachusetts Masterpieces: The Decoy As Art,"Lincoln, MA, 2016, pp. 76-77, Osgood, Fabens and Nichols discussed and Osgood merganser illustrated. Robert Shaw, "Bird Decoys of North America," New York, NY, 2010, pp. 150-151, lost Fabens merganser illustrated and Massachusetts discussed.
ConditionPlease email condition report requests to [email protected] Any condition statement given is a courtesy to customers, Copley will not be held responsible for any errors or omissions. The absence of a condition statement does not imply that the lot is in perfect condition.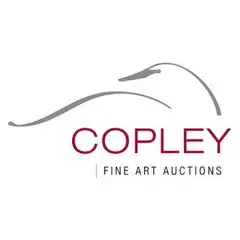 Live Auction
Start: Feb 24, 2023 10:00 EST