Winning Bid: $35,000
Exceptional Mallard Drake Decoy by Chauncey "Chance" Wheeler (1888-1945):
Exceptional Mallard Drake
Chauncey "Chance" Wheeler (1888-1945)
Alexandria Bay, NY, c. 1920
17 3/4 in. long
This highly refined mallard is understood by many to be not only the finest Chauncey Wheeler decoy, but also the best from the entire region. Beyond the region, it stands among the most important mallard drakes by any maker. Like some of A. Elmer Crowell's best carvings, it was rigged for use as a decoy, yet it shows the refinement and effort the maker exhibited in his best decorative works. The gouged detail is reminiscent of the flourishes seen in the most highly prized works of the Caines Brothers from South Carolina. A view from above this Wheeler carving shows the coveted "Heart Pattern"of the wings and back. The paint is deftly applied with combed, stippled, and wet-on-wet techniques on display.
While the mallard is an ubiquitous species in North America today, wild native mallards, and subsequently their decoys, were scarce in the East during Wheeler's era. This decoy is the finest of its kind; illustrating its rarity, only one other example is remotely comparable. The other bird is illustrated and discussed in the 2002 monograph on "Chance"in a dedicated chapter titled "New Found Species and Style."This lot was widely unknown until its public offering in 2012, when it set the record for any Wheeler decoy or decorative. Since then it has been toured and illustrated broadly. The underside retains Kirson Collection markings and a Ward Museum exhibition label.
Original paint with light wear.
Provenance: Robert Billingsly
Private Collection, New York
Donald Kirson Collection
Literature: "The Year in Review 2012,"Decoy Magazine, 2012, front cover, exact decoy illustrated. "48th annual Decoy & Wildlife Art Show,"Decoy Magazine, 2012, July/August 2016, p. 19, exact decoy illustrated. "Decoy Magazine,"March/April 2019, p. 19, exact decoy illustrated.
ConditionPlease email condition report requests to [email protected] Any condition statement given is a courtesy to customers, Copley will not be held responsible for any errors or omissions. The absence of a condition statement does not imply that the lot is in perfect condition.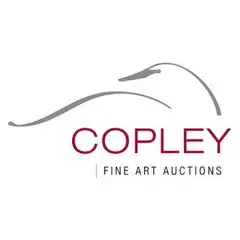 Live Auction
Start: Feb 24, 2023 10:00 EST