Winning Bid: $32,500
Arthur Fitzwilliam Tait (1819-1905), On the Qui Vive!:
Arthur Fitzwilliam Tait (1819-1905)
On the Qui Vive!, 1871
signed and dated "A.F. Tait N.Y. 1871" lower right
oil on panel, 12 by 16 in.
numbered, titled, signed, and inscribed on back
"On the Qui Vive" is old slang for "on the alert," another common title for Tait's deer paintings. Depicting four deer with flying mallards behind on the shore of Racquette Lake in the Adirondacks, this bright and lively jewel of a painting reveals the artist at the peak of his painting abilities.
This important work is titled and described in Tait's 1871 register entry as No. 19. It is illustrated in Cadbury and Marsh's text on the artist: "[No.] 19. Deer. on the qui vive! Buck & 3 Does. 16 x 12. Mr. Dorman, 109 E 27th St. Del'd to him March 17th & paid same time [$125.00] in his own frame by [blank]."
Known as one of America's earliest sporting artists, Arthur Fitzgerald Tait was born in Liverpool, England, in 1819. From an early age, he was interested in both art and the outdoors. Tait worked for the firm of Thomas Agnew, a famous art dealer and lithographer in Manchester, trained in lithography and drawing, and explored the open land around the city. However, many of the most beautiful vistas and hunting grounds were private and off limits. While in the employ of the art firm, Tait was exposed to the works of Edwin Landseer (1802-1873), Richard Ansdell (1818-1885), and John Frederick Herring (1815-1907), among others.
In Liverpool, beginning in 1843, Tait spent time with fellow artist George Catlin (1796-1872), which may have whetted the young artist's appetite to explore life in America. Catlin, who was twenty-three years older than Tait, had spent much of the previous decade living in the American West chronicling the lives of Native Americans through his careful drawings and sketches of their clothing, weapons, and ceremonies. There is little doubt that Catlin's stories would have captivated the young and talented Tait.
In 1850 Tait boarded a boat with his wife and came to America. By 1852 Tait was pursuing his interests in wildlife and hunting, based on the subject matter of his works. He worked from a studio in New York City, but spent a great deal of time on Long Lake in the Adirondacks, where he acquired skills as an angler, hunter, and keen observer of wildlife. These skills were as important for Tait's art as his fine ability with brush and pigment, since they gave an authenticity to his portrayals of outdoor life which was virtually unrivalled at the time. His relative freedom to paint wherever he wanted in the vast public lands of New York was obviously liberating to the artist, who had felt confined by the strict laws governing trespassing and hunting on private property in England.
With this liberation and experience of the outdoors, Tait's artistic career flourished. In 1852, only two years after Tait arrived in New York, Nathaniel Currier (1813-1888) and James Merritt Ives (1824-1895) purchased the first of many works from the budding artist. In that same year, Tait was asked to hang a half-dozen works at the National Academy of Design's annual exhibition. By 1854 he had achieved an associate membership and four years later he became a full member. Editions of Tait's works for Currier and Ives were reproduced by the thousands and formed some of America's most iconic images of the Victorian era. The exceptionally popular "American Field Sports" series showcased Tait's abilities as an upland bird and dog painter and included the four lithographs "A Chance for Both Barrels," "Flushed," "On a Point," and "Retrieving." These hunting scenes, along with his camping and woodland scenes, resonated with the public as an integral part of the American experience and continue to inform us of our history as a nation. Seminal works by Tait, such as "An Anxious Moment," "A Tight Fix," and "Trappers at Fault: Looking for the Trail," have become embedded as part of our heritage and serve as signposts along our path as a nation.
Today, Tait's wilderness, frontier, and wildlife scenes hang in some of the most prominent museums and private collections, including the permanent collections of the Addison Gallery of American Art, Andover, Massachusetts; the Adirondack Museum, Blue Mountain Lake, New York; the American Museum of Western Art, Denver, Colorado; the Amon Carter Museum, Fort Worth, Texas; the Brooklyn Museum, New York; the Corcoran Gallery of Art, Washington, DC; the Denver Art Museum, Colorado; the Metropolitan Museum of Art, New York; the National Museum of Racing, Saratoga Springs, New York; the Shelburne Museum, Vermont; the Yale University Art Gallery, New Haven, Connecticut; the Tate Gallery, London; and the Victoria & Albert Museum, London, among others.
Provenance: Dorman Collection
Mrs. J. Augustus Barnard Collection
The Metropolitan Museum of Art, New York, 1979
Private Collection
Literature: Warder H. Cadbury and Henry F. Marsh, "Arthur Fitzwilliam Tait: Artist in the Adirondacks," Newark, DE, 1986, pp. 215-16, no. 71.10, illustrated.
ConditionPlease email condition report requests to [email protected] Any condition statement given is a courtesy to customers, Copley will not be held responsible for any errors or omissions. The absence of a condition statement does not imply that the lot is in perfect condition.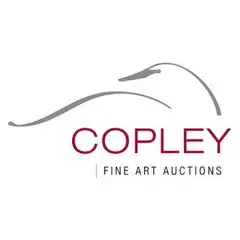 Live Auction
Start: Feb 24, 2023 10:00 EST