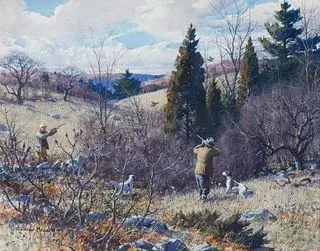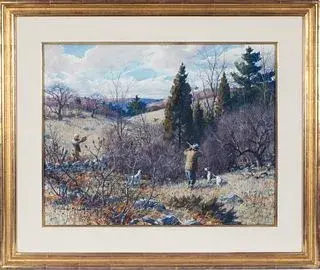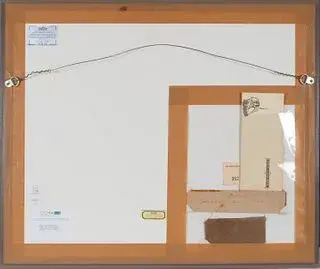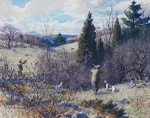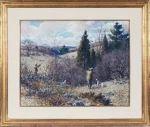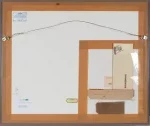 Winning Bid: $50,000
Aiden Lassell Ripley (1896-1969), Grouse Shooting:
Aiden Lassell Ripley (1896-1969)
Grouse Shooting, 1946
signed and dated "A. Lassell Ripley © 1946" lower left
watercolor, 18 by 22 in.
This 1946 watercolor is number four in a print series of six scenes done for "Field & Stream" entitled "Gunning in America." The gentleman pictured to the right is most likely the artist, with his favorite dog, "Chief," by his side. It is by many accounts the most important grouse hunting watercolor the artist ever produced.
Born in Wakefield, Massachusetts, Aiden Lassell Ripley was the son of a Boston Symphony Orchestra musician. From an early age he excelled at music, but he soon discovered a deeper interest in painting. By his mid-teens, Ripley was committed to a career in art, commuting into Boston to take classes. After returning from service in World War I, he attended the Boston Museum School where he studied with the country's top artists, including Philip Leslie Hale (1865-1934) and Frank W. Benson (1862-1951).
Ripley was awarded a Paige Traveling Fellowship to study in Europe. While abroad, he painted watercolors "en plein air" in North Africa, France, and Holland. Upon his return in 1925, he was elected to the prestigious Guild of Boston Artists. His work focused on the New England countryside as well as depictions of city life and railroad commuting scenes. The Great Depression, however, limited the sales potential for these works. Following a successful one-man show of his sporting art in 1930, Ripley decided to change tack and specialize in hunting, fishing, and outdoor scenes as subjects.
Along with his contemporary Ogden Pleissner (1905-1983), Ripley exemplified the life of a successful sporting artist. Collectors of Ripley's sporting art endorsed his numerous trips to the salmon rivers of New Brunswick and the quail plantations of Georgia, where the artist indulged his passion for hunting and fishing while recording material he would use in his art.
Provenance: Commissioned by Field & Stream, 1946
Private Collection, New Hampshire
Private Collection, Massachusetts
Literature: Stephen B. O'Brien Jr. and Julie Carlson Wildfeuer, "The Art of Aiden Lassell Ripley," Boston, MA, 2009, pp. 53 and 125, illustrated. Field & Stream, February 1947, p. 35, illustrated. Sporting Classics, November/December 1997, pp. 70-71, illustrated.
Exhibited: New York, New York, Coe Kerr Gallery, December 2–January 8, 1982, no. 16.
Wildlife and Sporting Art: The Masters' Show in Ligonier, 1987.
Dennis, Massachusetts, "Aiden Lassell Ripley (1896-1969): A Retrospective," Cape Cod Museum of Art, August 2–October 5, 2008.
ConditionPlease email condition report requests to [email protected] Any condition statement given is a courtesy to customers, Copley will not be held responsible for any errors or omissions. The absence of a condition statement does not imply that the lot is in perfect condition.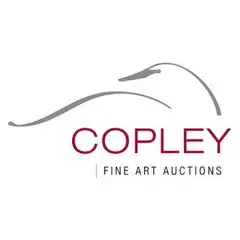 Live Auction
Start: Jul 14, 2022 10:00 EDT