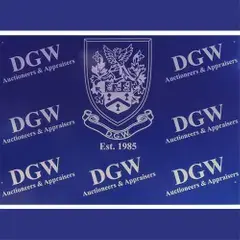 DGW Auctioneers Inc

760 Kifer Road, Sunnyvale, California 94086
408-245-1863
About Auction House
Who are we and What do we do? DGW Auctioneers & Appraisers is your NEIGHBORHOOD AUCTION HOUSE with INTERNATIONAL REACH. Located in the heart of California Silicon Valley and San Francisco Bay Area, DGW conducts a Live Public Fine Estates Auction once per month on a the last Saturday of the month.
Auction Previews & News
2 Results
The South African gold Krugerrands were released for the first time in 1967 and have been issued annually since then. A very limited edition of three full Krugerrand gold proof coins from 1981 will be available in the upcoming December 2022 Rare Coins & Collectibles sale, presented by DGW Auctioneers Inc. The coins are made of 22-karat gold and contain one full troy ounce of pure gold. The fine gold content of a Krugerrand coin is 31.104 grams. The obverse displays the image of Paul Kruger, once the President of the South African Republic, together with the words "South Africa" in both Afrikaans and English. A Springbok antelope is pictured on the reverse along with the year of minting and gold weight. The Krugerrand coin is packaged in a transparent plastic protective case. Numerous other notable numismatic lots are also available for sale, including a 1727 Russia Peter II two ruble gold coin and Canada $50 Maple Leaf gold coins. The sale also features a ten troy ounce pure gold bar from the Perth Mint. A rich history of gold production is associated with the Perth Mint. This bar of .9999 fine gold is made in keeping with that tradition and displays the distinctive logo of the mint. This mint is one of just two that produce legal tender coins for Australians. To see the entire catalog and browse other online auctions, visit Bidsquare.

Peter III was an emperor of Russia in the 18th century, and during his time he established the first state bank in Russia and encouraged mercantilism. Though he is responsible for pulling out of the Seven Years' War, his reign is largely overshadowed by the fact that he was overthrown by his wife, Catherine the Great, just 186 days after he became emperor, and died soon thereafter. Though his reign was brief, there was time to mint money with his likeness, and one of the rare coins from this period--a 5 ruble gold coin--is available at auction in the Rare Coins, Estates & Collectibles sale offered by DGW Auctioneers Inc. Among the many gold coins and other items in the sale, PAMP Suisse 999.9 fine gold bars, Valcambi Credit Suisse fine gold bars, South African Krugerrands, and Canadian maple leaf gold coins are notable. Beyond gold items are works of art and textiles from China, Japan, and Persia. A 2007 Toyota Avalon XL 4-Door Sedan with just 62,000 miles is also available in the sale. There are also antique and contemporary pieces of fine furniture, full sets of fine dinnerware, several cut tanzanite gemstones, vintage stereo receivers, several lots of fine bottled wine, and more. Visit Bidsquare to find the complete catalog and browse other online auctions.

In the early 20th century, traditional ukiyo-e prints were in decline, and a new style of Japanese printmaking had taken hold. Artisans used the old techniques to depict new subjects, often traditional Japanese themes that were romanticized to appeal to a Western audience. DGW Auctioneers will soon present a selection of Japanese shin-hanga prints during this July's Fine Estates & Collectibles Auction. The prints are from Kawase Hasui, a leader of the shin-hanga movement. Among the top lots is Hasui's Tennoji Temple in Osaka. This shin-hanga woodblock print shows a single figure standing before a snowy temple. They face away from the viewer, blocked by a white-dusted umbrella. The sale also includes Japanese prints by Kasamatsu Shiro, Hiroshi Yoshida, and others. Among the notable jewelry lots in this sale is a Buccellati 18-karat gold and diamond bangle bracelet. This hand-made piece features a total of 30 diamonds arranged in a radiating snowflake pattern. Additionally, a variety of furniture items will cross the auction block. A Louis XV-style transitional trumeau mirror leads this section of the sale. A painted panel arches above a beveled mirror, held together with a gilt frame. A candle would have been placed before this French-style mirror to illuminate dim rooms. Additional lots of interest include handcrafted glass paperweights, sterling silver flatware, and assorted luxury wines. Visit Bidsquare to view the complete catalog and browse other online auctions.