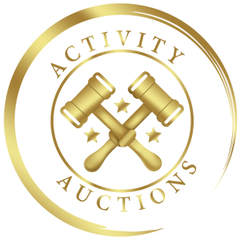 Activity Auctions

8 The Green Ste A, Dover, Delaware 11101
800-218-2812
About Auction House
Activity Auctions specializes in Sports, Music and Hollywood memorabilia.
Auction Previews & News
1 Results
Rare signed jerseys of the NBA's top 50 players of all time are coming to the market this fall in The Fall Into Action Premium Memorabilia Auction, presented by Activity Auctions. Most of these top players are deceased, making this lot irreplaceable. The signatures on the jerseys were collected over many years by a sports writer. The writer went to the Basketball Hall of Fame each year for the induction. The jerseys bear 44 signatures, and the PSA holders on the bottom have six signatures. The NBA players who signed the jerseys include Kareem Abdul-Jabbar, Nate Archibald, Paul Arizin, Charles Barkley, Rick Barry, Elgin Baylor, Dave Bing, Larry Bird, Dave Cowens, Billy Cunningham, Michael Jordan, Moses Malone, and Shaquille O'Neal, among others. The jerseys are framed in a large custom-made display. This sports memorabilia sale will offer sports and music fans a variety of rare collections, including an 1890 signed letter from Claude Monet, Star Wars collectibles, and Warren Buffet and Bill Gates signed display. A Muhammad Ali-signed photo of the boxer knocking his opponent down is a notable lot. Among Hollywood memorabilia, a signed album of Rocky IV is available. It is signed by Sylvester Stallone, Talia Shire, Carl Weathers, and Dolph Lundgren. Find the listed items and more online auctions on Bidsquare.