Susan Folwell: Taos Light / Pueblo Perspectives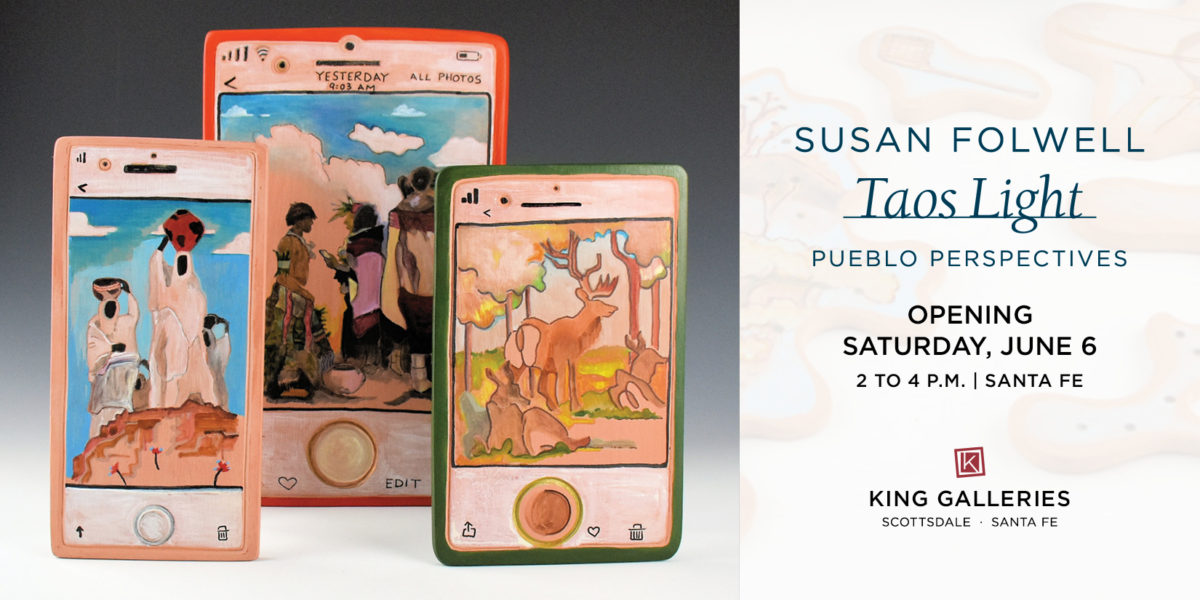 Susan Folwell began her journey into a Native re-interpretation of the Taos Society of Artists in 2017. Since then, the work has found its way into museums from the Eiteljorg Museum permanent collection to an exhibition at the Harwood in Taos, New Mexico. This show continues this provocative and thoughtful journey. "Pueblo Perspectives" is an online exhibition at King Galleries and an installation in our Santa Fe gallery which will continue through October 2020.
The Taos Society of Artists was formed in 1915 and disbanded in 1927. These painters were attracted to Taos, the light, the people, and the culture of the nearby Pueblos. During the twelve years of its existence, there were 12 active members which included: Bert Phillips, Ernest Blumenschein, Irving Couse, Henry Sharp, Oscar Berninghaus, Herbert Dunton, Julius Rolshoven, Walter Ufer, Victor Higgins, Martin Hennings, Kenneth Adams, and Catherine Critcher. It is from this extraordinary group of paintings, in both public and private collections, which Susan draws for her clay work.
The continuing significance of this work is to see the concepts filtered through Native eyes and perspective. It's social commentary in clay, often capturing what makes the paintings of this group so renowned, and then giving it a modern spin. As has been written about Susan Folwell, her, "intricately designed pottery is like reading a book, as each piece must be turned, examined and viewed from different angles to understand the whole story". That may well sum up how this show is best seen, as each piece is turned and viewed as a painting, finding the right light and angle, not only of the art but of its extension of this story into the future.