Rosalba Carriera: the pastellist whose 'images came from heaven'
Coveted by kings and eulogised by poets, Rosalba Carriera was one of the most popular artists of the Rococo. As two of her works are offered for sale, Jessica Lack looks back on an extraordinary career that was extinguished by tragedy
In 18th-century Italy, the artist Rosalba Carriera (1673-1757) was so highly regarded that poets dedicated sonnets to her. Gaspare Gozzi eulogised her 'noble nature' and ability to turn evil into beauty, while Pierre Jean Mariette suggested her 'images came from heaven' and her 'colours have given Light to the world'.
Their respect was well founded: by the early 1700s, the Venetian-born painter, who began her career painting pictures on snuff boxes, was considered to be the greatest pastellist in Europe. Her studio in Venice was filled with progressive thinkers and grand tourists, while German princes devoted entire galleries to her portraits. By 1705 she had been elected into the prestigious Accademia di San Luca in Rome.
It goes without saying that this stellar career was not the traditional path for a woman, nor was her background artistically auspicious. Carriera's father was a lowly government worker and her mother, Angela, an embroiderer. The Carriera matriarch, though, was clearly enlightened when it came to Rosalba and her two sisters, Giovanna and Angela.
When the poet Luisa Bergalli (1703-1779) published an edition of sonnets in 1738, she dedicated it to Rosalba's mother for having educated her daughters so well. She also cited the three sisters in a poem challenging those who 'scorn the gentle sex':
'Come and admire the works / Of Angela, Rosalba, and Giovanna; / And further say if heaven condemns us women / To working just with needle and with thread.'
Carriera's career coincided with a revival in fortunes of her native city. Venice had been in slow decline until the advent of the Grand Tour, when extravagant travellers keen for keepsakes of the city sent back paintings and sculptures to their homes in northern Europe.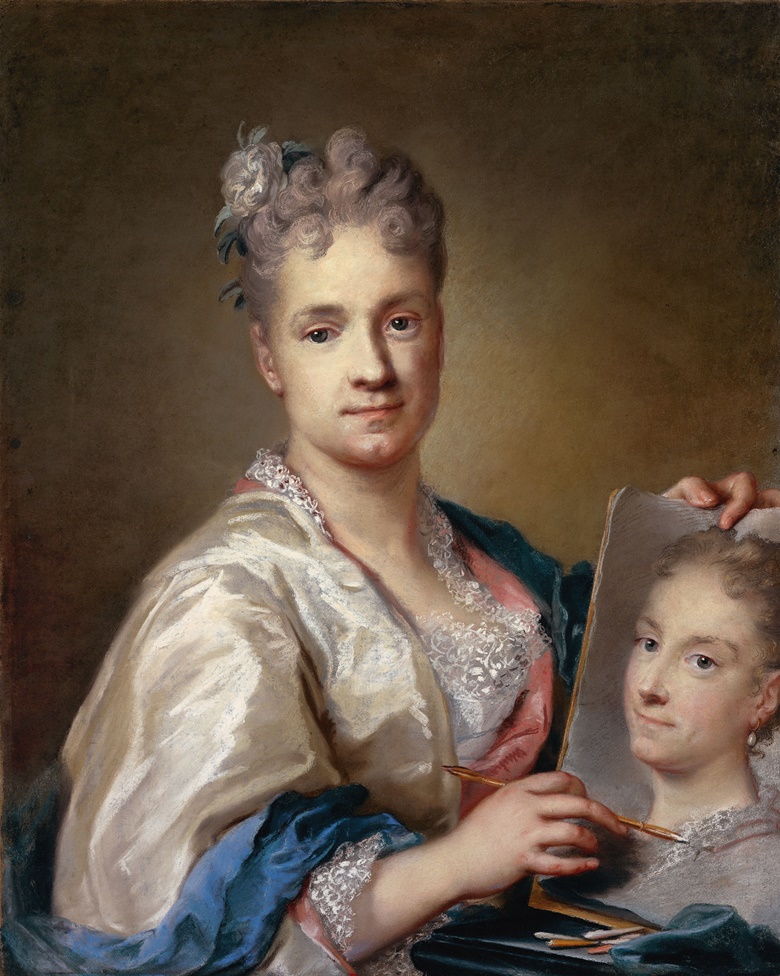 Rosalba Carriera, Self-Portrait, 1709, holding a portrait of her sister Giovanna, pastel on paper. Galleria degli Uffizi, Florence. Photo: Mondadori Portfolio/Electa/Remo Bardazzi/Bridgeman Images
The artist's pastel portraits were the perfect prize for the affluent flâneur abroad. Unlike oils, they required no lengthy underpainting, and they were often made on paper, which was easy to transport at minimal expense. Carriera was also one of the first artists to use pastel to soften the face, creating an immensely flattering, yet realistic portrait of the sitter.
The two pictures of young women, below, offered in the Old Master & British Drawing & Watercolour online sale until 27 July, are fine examples of Carriera's work. In addition to extensive blending, which creates a velvety quality, the artist was a master of the 'dry brush' technique, in which the flat side of the chalk is grazed over a contrasting colour to suggest diaphanous material, as can be seen in the women's dresses.
As Carriera's popularity swept across Europe in the early 1700s she was invited to Paris and Vienna, where her sitters included the famed Rococo painter Jean-Antoine Watteau (1684-1721) and the young King Louis XV. Augustus III of Poland (1696-1763) purchased more than 150 works by the artist, while in England, she had a number of important followers, namely William Hoare of Bath, Francis Cotes and John Russell.
Rosalba Carriera (1675-1757), Portrait of a young lady, bust-length, turned to the right (An allegory of Spring). Pastel on paper, laid down on canvas. 17⅜ x 13⅛ in (44.1 x 33.3 cm). Estimate: £40,000-60,000. Offered in Old Master & British Drawings & Watercolours, 6-27 July 2020, Online
Rosalba Carriera (1675-1757), Portrait of a lady, bust-length, looking to the right, holding grapes (An allegory of Autumn). Pastel on paper, laid down on canvas. 18¼ x 12⅞ in (46 x 32.5 cm). Estimate: £40,000-60,000. Offered in Old Master & British Drawings & Watercolours, 6-27 July 2020, Online
Throughout her life, Carriera remained resolutely single. 'I have a cold, withdrawing nature,' she wrote by way of refusal to one proposal of marriage. She was, however, generous and supportive of younger female artists, most notably the Rococo painter Felicità Satori (c. 1714-1760), who trained under her. It is almost certain that her decision not to marry was strategic, enabling her to have total autonomy over her finances.
In the last decade of her life, Carriera went blind, and the depression she had suffered on the death of her beloved sister Giovanna in 1738 returned. The demand for pastel portraits had also waned as patrons sought out the less theatrical, more serious Neo-Classicism.
Carriera stopped work and lived out her remaining years on the Dorsoduro in Venice. Following her death in 1757, her friend Bergalli concluded, 'Thanks to her beautiful paintings, her reputation has penetrated everywhere.' Yet by the early 1900s, she was all b​ut forgotten.
In the past two decades, however, that has begun to change. In 2002, the Metropolitan Museum of Art in New York bought a portrait of the Second Viscount Boyne. Exhibitions of Carriera's work soon followed, as did Bernardina Sani's catalogue raisonné, published in 2007. In 2008 Christies set an auction record when it sold a similar portrait to the Met's for £421,250. Since then, a new generation of collectors has rediscovered her luminous visions.