MidWeek Turns Furniture World Into An Antiques World
Where floor plans are concerned, it is the rare antiques show that deviates from the norm. Most are as regular as a grid painting by Mondrian, who had Manhattan traffic in mind when he created "Broadway Boogie Woogie." Show managers likewise envision customers cruising like yellow cabs down one aisle and up the next.
Barn Star Productions chief Frank Gaglio got a lesson in living off the grid after learning that his flagship Mid*Week in Manchester, August 5 and 6, was losing its venue of 15 years, the Wayfarer Inn in Bedford, N.H. The news sent the Rhinebeck, N.Y., promoter on an epic search for a new home for Mid*Week and its companion, the Pickers Market. Eager to keep Barn Star in town, Manchester's mayor dispatched a car and driver to help Gaglio in his often dispiriting hunt.
The breakthrough came in the 11th hour. A local hotelier encouraged Gaglio to check out the Furniture World Building, a vast and empty former showroom in the heart of Manchester's big box retail district. The rental turned out to be a godsend: big, spacious and fully air-conditioned; easy to find; supremely convenient to reach by car; equipped with a comfortable catering space; easy to set up; and plentifully supplied with nearby hotels and parking.
Taking on the Furniture World Building forced Gaglio to think outside of the box. Furniture World is permanently fitted with irregularly shaped alcoves, some with ersatz touches such as fireplaces and beams, the residue of room-set vignettes past. A grid-shaped floor plan was impossible, so Gaglio got to work designing a show to take advantage of the existing architecture.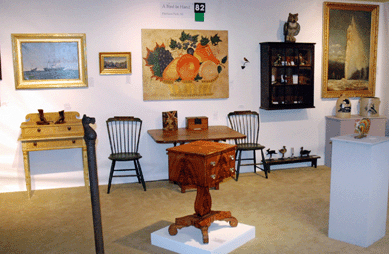 Exhibitors rose to the creative challenge, as well. Maryland dealer Lisa McAllister provocatively displayed a harvest table on a sharp angle, while North Carolina dealers Steve and Lorraine Marshall used the rustic, primitive feeling of their space to its best, incorporating early smalls in abundance and hanging a one-drawer Virginia paneled hanging cupboard in original blue paint.
"It was one of the most interesting shows I've done, unlike any other. I think everyone had fun," said Shaker specialist John Keith Russell, who did steady trade in folk art this year.
The result was a handsome, all-new Mid*Week in Manchester. Rather than cubicles, many booths were like extended folding screens, arresting and highly visible from a distance. Walls and ceilings were high, aisles wide and carpeted, all booths came with track lighting, and some had wood floors. That said, the irregular floor plan made for some disoriented shoppers, a problem Gaglio addressed by dividing the show into four, color-coded quadrants.
One suggestion for next year is a map labeled with exhibitors names, so that shoppers can gauge at a glance where they have been. Another thought is to do more to force traffic in specific directions. As one veteran show dealer put it, "People need paths."
Mid*Week's return was a blessing for all, helping to guarantee robust crowds for Antiques Week in New Hampshire and a payday for local merchants. "In a down economy, this is the first step to a strong recovery," said Bob Bockius of Mitchell Displays, a Westville, N.J., company that builds antiques shows. Mid*Week exhibitors are eager to return to the venue, which, alas, is for sale.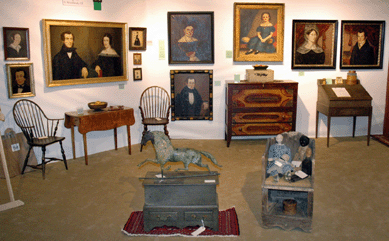 A long line formed for Mid*Week's opening on Wednesday, August 5, at 9 am. Attendance remained steady through much of the day and picked up again on Thursday, August 6, several hours after the opening of the nearby New Hampshire Antiques Show.
Gaglio said he sold more than 450 combo tickets to the Mid*Week and Pickers Market shows. He put attendance at Mid*Week up by 25 percent. "My staff was able to confirm that from the parking lot at the show site," he noted. In a savvy deal with Easter Seals, Gaglio ran shuttles between a large offsite parking lot and the show.
Mid*Week's star-studded lineup includes nearly two dozen participants from the Winter, Philadelphia and American antiques shows. With more than 100 displays in all, it provides much to see and noted strengths in American furniture, folk art, and objects such as porcelain, pottery, glass, textiles, silver and pewter.
Most exhibitors said they were satisfied with sales.
"It was better than last year for us," said Grace Snyder of South Egremont, Mass., who mingled a whimsical "Baby" crib or table cover appliqued with nursery rhyme figures, a rare Eighteenth Century ladder back armchair with a candle or drinking arm, and a circa 1820 portrait of Richard Sears of Chatham, Mass. Early sales included a small paint decorated dome top Vermont box.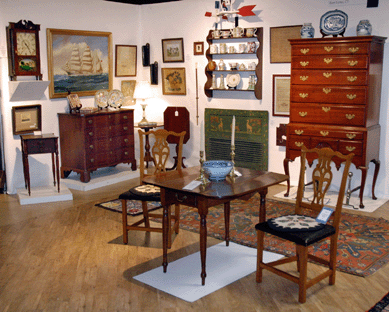 When we caught up with Hilary Nolan, he was helping a customer load a green stretcher-base dining table into the client's car. The Cape Cod dealer and his wife, Paulette, ticked off a slew of sales: a Nantucket pocket book, a painted box, hooked rugs, a chair, shelves, woodenware, shorebirds and decoys, a trade sign, and a large step back cupboard. Some of their most expensive pieces, including a rare Eighteenth Century Rhode Island table and a family group of nautical heirlooms, including two sailors valentines and a Liverpool pitcher, remained under consideration.
Mid*Week brings out discerning collectors. Sheila and Roy Mennell of Bradford Trust Fine Art, Harwich Port, Mass., are best known for regional American paintings; however, one of their first sales was a rare circa 1910 New Hampshire Pottery clock with Boston works.
Stephen and Carol Huber got off to a good start, writing up a Cohasset, Mass., watercolor memorial of 1832, a Boston sampler memorial, and a Canterbury, N.H., sampler in rapid succession. "It was probably our best show in Manchester," said the needlework specialists.
The Hubers raced back to Old Saybrook, Conn., to attend to their annual summer sampler show. Oriental carpets dealer Peter Pap, meanwhile, was preparing for a 35th anniversary sale at his beautiful gallery in Dublin, N.H., slashing prices as much as 40 percent.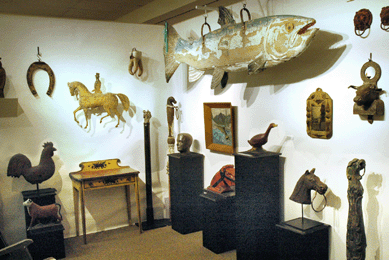 Rockport, Mass., dealer Susan Stella parted with a large pilothouse eagle, five quilts, hooked rugs and many smalls before a family emergency called her home Wednesday night.
"Furniture was slow, but I sold lots of smalls," said Marjorie Staufer, a longtime Ohio dealer in primitives.
"We sold 22 things †glass, paintings, a fraktur, a sampler †pretty much across the board. It was much better than expected," said another Ohio dealer, Sam Forsythe.
There was much to love at Mid*Week. Some of our favorites included two folk pastorals: "Homestead," an oil on canvas by Olaf Krans at James B. Grievo Antiques, and a circa 1850 fireboard, mid-Atlantic in origin, decorated with a house and yard at Otto & Susan Hart Antiques.
In the furniture category, we admired a carved Federal House of Representatives chair by Bembe & Kimbel at Jenkinstown Antiques; a Shenandoah Valley writing cabinet, walnut with light and dark wood inlays, at Sumpter Priddy Antiques; and two elongated Odd Fellows chairs, one red and one blue, at Samuel Herrup Antiques.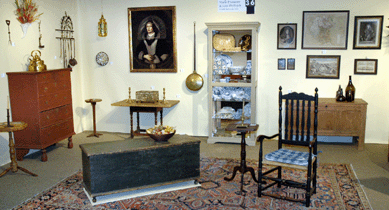 "They're from a lodge in western Pennsylvania or eastern Ohio," explained Herrup, who also featured a circa 1835 Ammi Phillips portrait of a man in original frame.
"The big ones, 10 inches or more, are the hardest to find," Ed Holden said of his assembled set of graduated chestnut bottles. Holden Antiques of Sherman, Conn., has 60 chestnut bottles in stock at any given time.
We have the season to thank for Mid*Week's bumper crop of fine marine art and antiques. Especially appealing were Stephen Score's gutsy diorama with two ships with billowing sails and a lighthouse behind; an oil on canvas of the American bark Essex by S.M.F. Badger at The Hanebergs; Jeffrey Tillou's "Captain Asa York Passing Flushing" by C.L. Weyts; and Jim and Nancy Glazer's large shell mosaic picture and monumental Nantucket basket.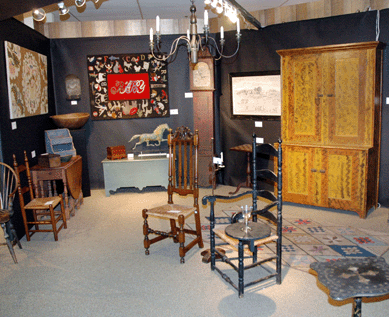 "Considering all the logistics that had to take place to move this event, it all went extremely well. We hope to be back in this venue next year," Gaglio said.
Next stops for Barn Star Productions include the Princeton Fall Antiques & Fine Arts Show, opening September 25, and the Autumn Hartford Antiques Show, opening October 31.