A conversation between generations: Alex Katz's Cecily
Painted at the height of Katz's powers, Cecily, which is offered for private sale at Christie's,is testament to the unlikely friendship between two artists from different eras
Francis Bacon painted Lucian Freud. Frank Auerbach painted Leon Kossoff. Keith Haring painted Andy Warhol, who painted Jean-Michel Basquiat. History is riddled with tales of artists who — through friendship, rivalry or admiration — became each other's muses. Such portraits are often full of surprises.
In 1999, Alex Katz painted Cecily Brown. It was, in many ways, an unlikely pairing. Katz, by then in his seventies, was a veteran of the New York art scene, with a distinguished oeuvre spanning nearly half a century. Brown, aged 30, was a relative newcomer. She had moved to the city from her native London five years previously, and was enjoying her first flurry of solo exhibitions.
Stylistically, their practices seemed worlds apart. Coming to prominence in the 1950s, Katz had perfected a crisp figurative language, defined by clean lines and flat planes of colour. Sidestepping the dogmas of contemporary abstraction, he painted glowing, near-devotional tributes to his family and friends: from his beloved wife Ada, to luminaries such as Frank O'Hara and Robert Rauschenberg.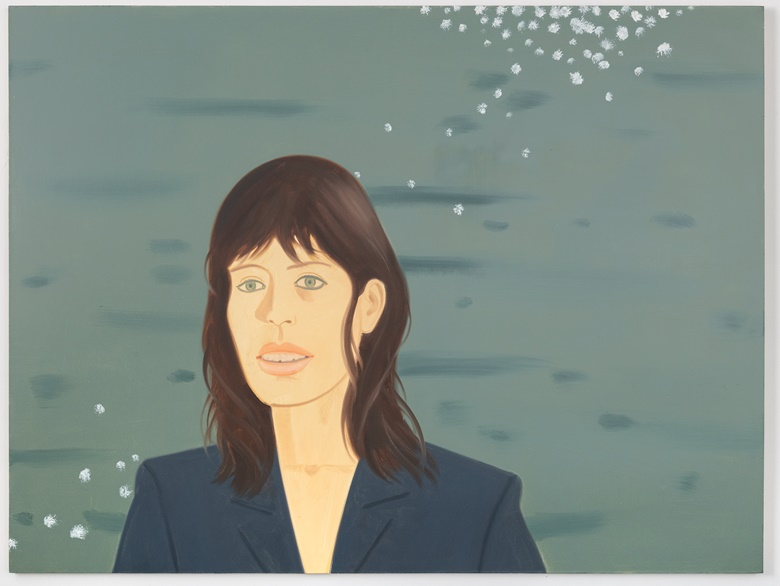 Brown, by contrast, was engaged in a wild exploration of painting's sensual pleasure. Glimpses of naked figures cavorted amid torrid streaks of pigment. Colours intermingled in rich, visceral strands. Imagery from cinema and popular culture fused with the influence of Rembrandt, Bacon and other great painters of flesh. If de Kooning had been something of a spectre for Katz, for Brown he was a hero.
Nonetheless, the two artists became friends. Painted at the height of Katz's powers, Cecily witnesses a master at work. Against a mottled grey-green backdrop, flecked with sparks of white, Brown's head and shoulders loom large. Crystalline modulations of light and shade chart her features; her eyes and mouth seem alive with unspoken thoughts. Clarity and ambiguity join hands — a state that Katz referred to as 'the present tense'.
Viewed closely, however, the portrait represents something more vital. In the four-decade gulf between painter and sitter lies a turning point in the history of painting — one in which both artists would play crucial roles. Indeed, for all their superficial differences, Brown and Katz had something fundamental in common: they both championed the medium at times where its future seemed uncertain.
For Katz, this journey began at the Cooper Union shortly after the end of the Second World War. Against the rising tides of Abstract Expressionism — and, later, Minimalism — he asked how one could apply 'the same velocity as de Kooning' to representational painting. With Manet and Matisse as his guides, he carved a bold new space for figurative art: one that de Kooning himself would single out for praise.
Brown occupies a similar historical position. By the time she left art school in 1993, the subversive, conceptual art of the YBAs posed a new threat to the discipline. Escaping London for New York, she immersed herself in painting's rich possibilities. As demonstrated in the Whitechapel Art Gallery's current exhibition Radical Figures, she went on to make a powerful case for its analogue alchemy in the digital era.
In this regard, the alliance between Katz and Brown was perhaps not so unlikely after all. Looking deeper, more similarities emerge. Both practices upheld the power of pigment to transmit sensation: to seal inarticulate moments in the sweep of a brush. Underpinning their divergent styles was a belief that paint — in all its malleable complexity — could capture the experience of being human.
Over the years, Katz became a supporter of Brown's work. In 2004, he curated an exhibition entitled Contemporary Painting at Colby College Museum of Art, Maine, where he included her paintings alongside those of artists such as Peter Doig and Elizabeth Peyton. He would depict her again, notably in his 2015 screenprint series, Black Dress.
At its core, Cecily records a conversation between generations. It tells the story of two artists, born eras apart, who breathed new life into their medium. Today, both Katz and Brown are regarded as 'painters' painters': passionate advocates for its past, present and future. It is this that ultimately shines through the work — the recognition, perhaps, of a kindred spirit.