Winning Bid: $13,000
Yves Klein, (1928-1962), "Table Monogold," designed 1961/1963, Gold leaf, glass, Plexiglass, wood, and steel, 14.25″ H x 49.25″ W x 39.25″D:
Yves Klein
(1928-1962)
"Table Monogold," designed 1961/1963
Gold leaf, glass, Plexiglass, wood, and steel
With signed placard of authenticity affixed to the underside; serial no. CCV-GFRE
14.25″ H x 49.25″ W x 39.25″ D
Provenance: Private Collection, Hidden Hills, CA
Notes: On April 28, 1928, Yves Klein was born to parents who were notable abstract painters in Paris. From 1942 to 1946, Klein studied at the Ecole Nationale de la Marine Marchande, and the Ecole Nationale des Langues Orientales. He would become a pioneer in the development of performance art and a prominent visual artist whose work bridged the gaps between Minimalism, Pop Art, and the Nouveau Realism movement.
Klein's techniques and use of raw pigments in paintings, performances, and furniture design are highly regarded within the art and design industry. Arguably, his most avant-garde performances were those in which he arranged for naked women covered in pigment to roll their bodies over canvases in public settings. He also coated sponges in raw pigments that he then affixed to canvases and panels. In 1963, Klein began producing clear Plexi-glass tables filled with powdered pigment piles in shades of light pink and his trademarked International Klein Blue (IKB), a deep shade of ultramarine as seen in the following lot. His use of pure pigment as a viable medium challenged long-held beliefs on art's relationship to both color and material in ways that continue to influence visual artists, performance artists, and interior designers working today.
ConditionOverall good condition with dust accumulation commensurate with age and use. Small chips to the corners of the glass.
Condition reports are offered as a courtesy and are typically published in Moran's catalogue or can be made available upon request. The absence of a condition report does not imply that an item is free from defects or restoration, nor does a reference to particular defects imply the absence of others. Buyers are responsible for determining to their own satisfaction the true nature and condition of any lot prior to bidding. Though buyers are not legally required to inspect lots prior to purchase, failure to do so may constitute a waiver of complaint that an item was not delivered in a condition equal to the existent condition at the auction.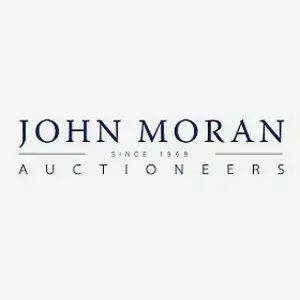 Live Auction
Start: Feb 28, 2023 15:00 EST