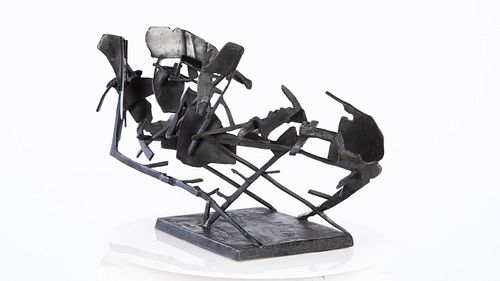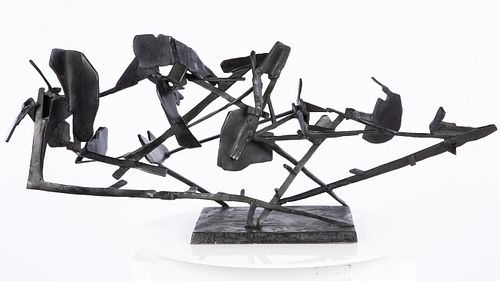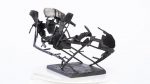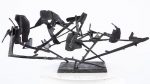 Winning Bid: $25,600
William Kentridge (NY, South Africa, b 1955), Sculpture for Return (Commendatore Naso), Bronze, initial signed WK and numbered 11/12 on the side of the base, when rotated the sculpture changes to form a nose.
"William Kentridge was born in 1955 in Johannesburg, South Africa where he currently lives and works. Often drawing from socio-political conditions in post-apartheid South Africa, Kentridge's work takes on a form that is expressionist in nature. For Kentridge, the process of recording history is constructed from reconfigured fragments to arrive at a provisional understanding of the past- this act of recording, dismembering and reordering crosses over into an essential activity of the studio. His work spans a diverse range of artistic media such as drawing, performance, film, printmaking, sculpture and painting. Kentridge has also directed a number of acclaimed operas and theatrical productions. From the Beginning is about fragmentation and reconnection, the fragility of coherence. His three projections, Breathe, Dissolve, Return offer three different ways of shattering an image and reconfiguring it. Breathe, as the title implies, uses breath and wind to do this, with images made from confetti. Dissolve uses the instability of water to hold and break images. Return uses three dimensional sculptural objects which revolve into and out of coherence (as can be seen with the offered lot). The pieces were originally conceived for the La Fenice opera house in Venice, and Philip Miller has constructed the music using the sound of an orchestra tuning, and a singer, Nokrismesi Skota, singing an aria" (Marian Goodman Gallery)
Measurements: Height: 14 in. x Width: 31 in. x Depth: 8 1/4 in.
Live Auction
Start: Feb 23, 2022 10:00 EST
End: Feb 24, 2022 04:14 EST