Starting: $4,000
Magna Graecia, South Italy, Apulian, ca. 4th century BCE. A beautiful and sizeable hydria of a classic form on a raised disc foot with twin handles emerging from the shoulder and one behind on the cylindrical neck as well as a wide flared rim with a convex-edged, slightly downturned rim. The impressive figural/decorative program is all delineated via the red-figure technique with fugitive white and yellow pigments. The body is decorated with an elegant seated draped Maenad holding a large palm frond in one hand and an open casket in the other, with a filet floating above it. She wears a radiate stephane, sakkos, pearl drop earrings, multi-stranded beaded necklace, and ribboned sash over flowing garments that accentuate her feminine form. The Maenad faces a standing Eros, nude save the drapery over his arms and decorative diadem. He holds a tambourine in one hand and a decorative staff in the other. On the reverse is a large, intricate palmette and tendril design. A stupendous example, finely rendered via the red-figure technique with wonderful fugitive paint details. Size: 10.375″ W handlespan x 14.875″ H (26.4 cm x 37.8 cm)
Contributing further to the painted decorative program are bands of frets on the neck and rim, a lower register of a Greek key variant beneath the figures, and several beaded strands and floating stylized flower motifs (these in added fugitive pigments). A stunning example from the Greek colonists of Apulia.
Provenance: private J.H. collection, Beaverton, Oregon, USA; ex private New Jersey, USA collection, acquired over 20 years ago
All items legal to buy/sell under U.S. Statute covering cultural patrimony Code 2600, CHAPTER 14, and are guaranteed to be as described or your money back.
A Certificate of Authenticity will accompany all winning bids.
We ship worldwide and handle all shipping in-house for your convenience.
#149825
Condition
A few nicks/losses to rim and foot. There is a repaired probe hole near the central handle and several stable fissures radiating from it. Expected surface wear with minor pigment losses and areas of encrustation.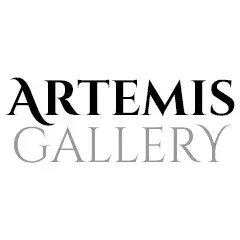 Live Auction
Start: Mar 12, 2020 10:00 EDT