Winning Bid: $1,900
Triassic Arizonan Petrified Wood Table w/ Iron Legs:
North America, Southwestern United States, Arizona, Late Triassic, ca. 225 million years ago. A massive and gorgeous slab of fossilized, petrified tree trunk mounted on iron legs as a stunning table! The tree is sliced crossways and highly polished on one of its planar sides to showcase the broad interior rings of the tree – not only beautiful but providing invaluable information to researchers. The exterior bark is fossilized, replaced by rough stone, while the smooth interior features incredible, colorful quartz, agate, and translucent crystalline structures. The colors are mesmerizing – dominated by warm hues of red and maroon with creamy white, gray-blue, ochre, green, purple, and orange swirls and striations – reminiscent of an interstellar nebula! The polished surface is pleasantly tactile and perfectly flat for using as a place to rest coffee cups or books. A stunning piece of furniture, perfect as a coffee table or nightstand! Size of petrified slab: 22.5″ Diameter x 1.25″ W (57.2 cm x 3.2 cm); height on legs: 27″ H (68.6 cm)
Fossilized trees from this time period come from the Chinle Formation of the southwestern USA, and the beautiful colors found in this formation – exemplified by the colors of this fossilized tree – give the Painted Desert of Arizona its name. Due to plate tectonics, this area was near the equator on the supercontinent Pangaea during the Late Triassic, which gave it a humid, sub-tropical climate. It was a floodplain below mountains to its south and a sea to its west; as a result, massive trees washed down from the mountains and came to rest in sediments that preserved them and fossilized them. The petrification process involves the rapid burial of the tree or pieces under sediment which prevents the usual decay. Flooding and volcanic activity are usually responsible for creating the layers of sand, silt, and ash needed to create the right types and amount of sediment. Mineralized water can then permeate through the wood, coating cell walls and filling the intercellular cavities which then fossilizes into stone. The detailed preservation of the wood, including knots, rings, and bark, are possible because the organic wood molecules become coated and surrounded with smaller silica molecules. Nine different species of tree have been identified in the fossilized deposits in the region; this example may be Araucarioxylon arizonicum, an extinct conifer tree (and the state fossil of Arizona). Fascinatingly, the Ancestral Puebloan people who lived in the region approximately 1000 years ago used petrified wood for making tools and even building houses!
Provenance: private Berthoud, Colorado, USA collection
All items legal to buy/sell under U.S. Statute covering cultural patrimony Code 2600, CHAPTER 14, and are guaranteed to be as described or your money back.
A Certificate of Authenticity will accompany all winning bids.
PLEASE NOTE: Due to recent increases of shipments being seized by Australian & German customs (even for items with pre-UNESCO provenance), we will no longer ship most antiquities and ancient Chinese art to Australia & Germany. For categories of items that are acceptable to ship to Australia or Germany, please contact us directly or work with your local customs brokerage firm.
Display stands not described as included/custom in the item description are for photography purposes only and will not be included with the item upon shipping.
#167929
CONDITION
Choice with amazing colors! Professionally cut and polished on one planar face. Small, shallow cavity near outer edge from the fossilization process. Protective fiber glass sealant on other planar face. Mounted with adhesive to modern black legs and sturdy / usable as a table!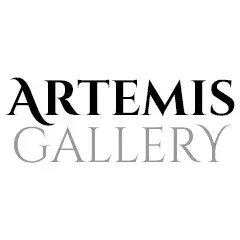 Live Auction
Start: Oct 28, 2021 12:00 EDT