Winning Bid: $12,000
Tall Egyptian Bronze Osiris, Pre-1960 Provenance:
Egypt, Third Intermediate Period to Late Dynastic Period, ca. 1070 to 332 BCE. A heavy and detailed cast bronze figure of the mummiform god of the Underworld, Osiris. This would have been a votive figure, perhaps made to be kept in a (very!) wealthy home and prayed to, deposited in a temple as an offering, or, most likely, kept for ritual with other metallic objects by priests. Comes with custom wood stand. Size: 3.25″ W x 10.2″ H (8.3 cm x 25.9 cm); height on stand: 11.55″ (29.3 cm).
He wears a tight shroud and Atef crown, with two lateral plumes flanking a uraeus. In his hands, which he holds close together at his chest, he has a flagellum and a short-handled heka scepter (perhaps indicating that this piece is from Thebes) – both are Egyptian symbols of authority and kingship, showing Osiris's close connection with the pharaoh and his role as Ruler of the Dead. He has a round face, with almond-shaped eyes, large ears, and thick lips below a straight nose. He also has the classic Egyptian false beard, incised to look like it is braided. Incised decoration gives further detail to his tools, his crown, and a pectoral underneath his shroud. One wonderful detail is found on his otherwise unornamented back – incised lines create a tie to hold his crown in place, with its strings hanging down his back.
Antiquities from the collection of Albert J. Zaloom were assembled from the 1970 to 1990s. Mr. Zaloom was of Middle Eastern descent and grew up in Brooklyn. He was owner of Zaloom Brothers, a firm dealing in pistachios. He served as the 37th President of the prestigious New York Numismatic Club, from 1992-1993, and subsequently on its Board. He was an enthusiastic collector of ancient coins, medals and antiquities.
Purportedly published in "Egyptian, Greek, and Roman Antiquities Property of Mrs. Charles E. Crawley," Parke-Bernet Galleries Inc. 1957, but we have been unable to confirm.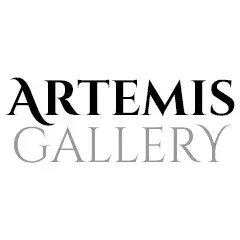 Live Auction
Start: Feb 18, 2021 10:00 EST