Starting: $2,500
Roman, late Republican to early Imperial periods, ca. 2nd century BCE to 1st century CE. A stunning glazed ceramic chalice whose surface is decorated by rows of staggered pinecone scales (the pinecone motif perhaps referencing the cult of Dionysos, as the god of wine carried a staff or thyrsus topped by a pine cone), twin ring handles with thumb plates in the form of dramatic volutes above them, and the exterior glazed in hues of rich, verdant green, the interior of golden orange – all gracefully supported by a wide disc foot. The exterior glaze has gained an incredible pearlescence over the centuries so that the true color shines through in some places, giving the body the appearance of a pine cone under snow. Size: 6.6″ W x 3.75″ H (16.8 cm x 9.5 cm)
For centuries, Greco-Roman pottery was decorated via the black-figure and red-figure techniques; however, in the second half of the first century BCE, Roman artisans created a new technique – covering vessels with vitreous, lead-based glazes that made for a beautiful glossy colors like the stunning greens and golden oranges gracing this piece. This is sometimes known as "Rhosian ware" or "rhosica vasa", and it was mainly made in Tarsos and elsewhere in Asia Minor, though some examples were made in Italian workshops too. The form seems to have been influenced by metal and glass vessels, and perhaps provided a more affordable but still stylish vessel for Roman customers.
See a similar vessel at the Walters Art Museum in Baltimore: https://art.thewalters.org/detail/40073/skyphos-with-pinecone-pattern-decoration-in-relief/ and another at the Getty in Los Angeles: http://www.getty.edu/art/collection/objects/12314/unknown-maker-lead-glazed-skyphos-roman-50-bc-ad-50/
Provenance: private-East Coast, USA collection; ex-Frances Artuner collection, Belgium, acquired in the 1960s
All items legal to buy/sell under U.S. Statute covering cultural patrimony Code 2600, CHAPTER 14, and are guaranteed to be as described or your money back.
A Certificate of Authenticity will accompany all winning bids.
We ship worldwide and handle all shipping in-house for your convenience.
#146055
Condition
Intact, with excellent remaining glaze. A few tiny chips and nicks from surface commensurate with age. Pearlescence on surface with deposits and craquelure.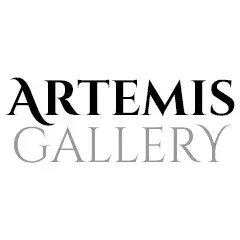 Live Auction
Start: Jun 25, 2020 10:00 EDT