Starting: $35,000
Superb Greek Archaic Bronze Protome Head of Griffin:
Ancient Greece, Archaic Period, ca. 7th to 6th century BCE. A striking bronze protome cast as a griffin, with the head of an eagle and incised scales and open beak with curled, pointed tongue. The eyes are openwork with raised eyelines around the lobes which may have contained bone inlays. A finial with a knob is set on the brow, and further back on the head are dramatic, pointed ears. This griffin head perhaps rested atop a sinuous neck that attached to the side of a cauldron. The griffin (or gryphon) is a beast with the head and wings of an eagle and the body of a lion. According to Graeco-Roman mythology, griffins lived in the Rhipaean Mountains of Scythia and guarded rich gold deposits. A wonderful green patina envelops this fantastical beast. Size: 5″ L x 3.5″ W x 5.8″ H (12.7 cm x 8.9 cm x 14.7 cm)
The griffin, half eagle and half lion, was a fierce symbol of divine power. The tradition was long lasting – we know of examples from ancient Iran and Egypt that are from ca. 3000 BCE – and the animal continued to appear in classically-inspired art into the early modern period.
Offerings to gods often consisted of impressive bronze vessels or cauldrons that were embellished by protomes featuring guardian heads riveted to the rims.
For a similar example please see the Metropolitan Museum of Art, accession number: 59.11.18.
This piece has been searched against the Art Loss Register database and has been cleared. The Art Loss Register maintains the world's largest database of stolen art, collectibles, and antiques.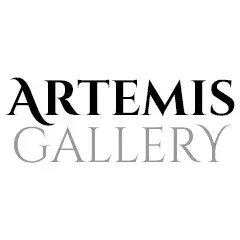 Live Auction
Start: Jun 10, 2021 10:00 EDT
End: Jun 11, 2021 11:34 EDT