Starting: $4,250
DESCRIPTION
Pre-Columbian, West Mexico, Colima, ca. 300 BCE to 300 CE. An endearing Colima dog vessel, finely mold-made in lustrous redware, seated upon all four legs, and particularly precious for those countless wrinkles. The highly-burnished puppy faces forward with a playful countenance defined by incised ovoid eyes, a perky nose with delineated nostrils, a smiling mouth, raised pointy ears, and those wonderful wrinkles. A very fine example which exudes ample charm and character evocative of ancient West Mexico! Size: 9.75″ L x 5.125″ W x 9.625″ H (24.8 cm x 13 cm x 24.4 cm)
Scholars know of at least two types of Colima dogs, one to be fattened up and ritually sacrificed or eaten and one to serve as a watchdog and healer of the ill. This plump hairless canine known as a Chichi or Escuintla is thought to be related to the Chihuahua or Mexican Hairless also known as the Xoloitzcuintle. The Xolo dog was named for the deity Xolotl, the God of the Underworld, and believed to guide the deceased as they journeyed to the afterlife. Colima vessels such as this one were buried in shaft tombs to protect the deceased and provide sustenance for eternity.
For a similar example, please see The British Museum, number Am1921,0613.1
Provenance: ex-Barakat Gallery, Beverly Hills, California, USA, acquired prior to 2000
All items legal to buy/sell under U.S. Statute covering cultural patrimony Code 2600, CHAPTER 14, and are guaranteed to be as described or your money back.
A Certificate of Authenticity will accompany all winning bids.
We ship worldwide to most countries and handle all shipping in-house for your convenience.
#153769
CONDITION
Tail and a small section of the rim were reattached with a bit of restoration over the break lines. Chip under label on underside of foot. Scattered deposits. Old collection label under one foot.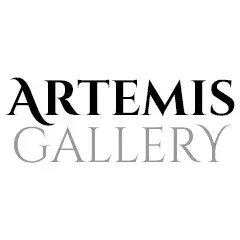 Live Auction
Start: Jun 17, 2021 10:00 EDT
End: Jun 21, 2021 04:56 EDT