Starting: $3,500
William Franklin Draper (American, 1912-2003). "Bermuda Surf" oil on canvas, 1968. Signed "Wm. F. Draper" on lower right. Painted in an expressive style, a view of Bermuda, perhaps capturing the rocky coastline of Horseshoe Bay or Elbow Beach. A longtime favorite subject among international artists including Winslow Homer and Georgia O' Keefe, Bermuda was one of William Draper's favorite places to paint, and the artist enjoyed capturing its beauty and vibrant color during his sojourns. In addition to Bermuda's simultaneously dramatic and picturesque natural environment, Draper got a kick out of traversing the island on motorbike in the 1950s and 1960s. A fabulous painting, signed by the artist on the lower right, and set in a custom frame with a brass plaque inscribed with the artist's name. Size: 36″ L x 36″ W (91.4 cm x 91.4 cm); 43.5″ L x 43.5″ W (110.5 cm x 110.5 cm) framed.
William Draper's career spanned seven decades and his subjects included a portrait of John F. Kennedy that hangs in the National Portrait Gallery in Washington D.C. based upon an oil sketch for which the president sat in 1962. Draper was actually the only artist who painted JFK from life. Draper showed at Knoedler, the Graham Gallery, Portraits, Inc., the Far Gallery, The Findlay Galleries (New York, NY) and the Robert C. Vose Galleries (Boston, MA). His work has been included in shows at the National Portrait Gallery and the Corcoran Gallery of Art (Washington, D.C.), The National Academy of Design (New York, NY), The Boston Museum of Fine Arts, (Boston, MA) the Fogg Art Museum, (one of the Harvard Art Museums, Cambridge, MA), the National Gallery, (London), Salon de la Marine (Paris) and in museums in Australia. He also taught at the Art Students League of New York, and received a lifetime achievement award from the Portrait Society of America in 1999.
More on the artist's background: William Franklin Draper was born in Hopedale, Massachusetts on December 24, 1912. A child prodigy, he studied classical piano at Harvard University. He later changed his focus to fine art and studied with Charles Webster Hawthorne and Henry Hensche in Provincetown, Rhode Island. Draper also attended the National Academy of Design in New York and the Cape Cod School of Art in Massachusetts. Then he traveled to Spain and studied with Harry Zimmerman, moved on to France and attended the Academie de la Grande Chaumiere. In 1937, he moved to Boston to study sculpture with George Demetrius and also studied with Jon Corbino in beautiful Rockport, Massachusetts. In 1942, Draper joined the Navy and served as a combat artist when stationed on the Aleutian Islands and in the South Pacific. He observed and painted battle scenes on Bougainville, Guam, Saipan, and other locations, as well as genre scenes of soldiers who were not engaged in combat but rather at work and at play. National Geographic magazine reproduced 25 of his war images in four issues in 1944. In 1945, the Corcoran Gallery of Art in Washington D.C. organized a group exhibition of works by five official war artists, including Draper. That same year the Metropolitan Museum of Art included Draper in an exhibition entitled, "The War Against Japan." Draper was also featured in a PBS television show about combat artists entitled, "They Drew Fire" in May of 2000. After the war, Draper opened a studio on Park Avenue in New York City and continued to not only paint, but also play classical and jazz piano.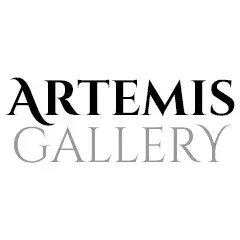 Live Auction
Start: May 14, 2020 12:00 EDT