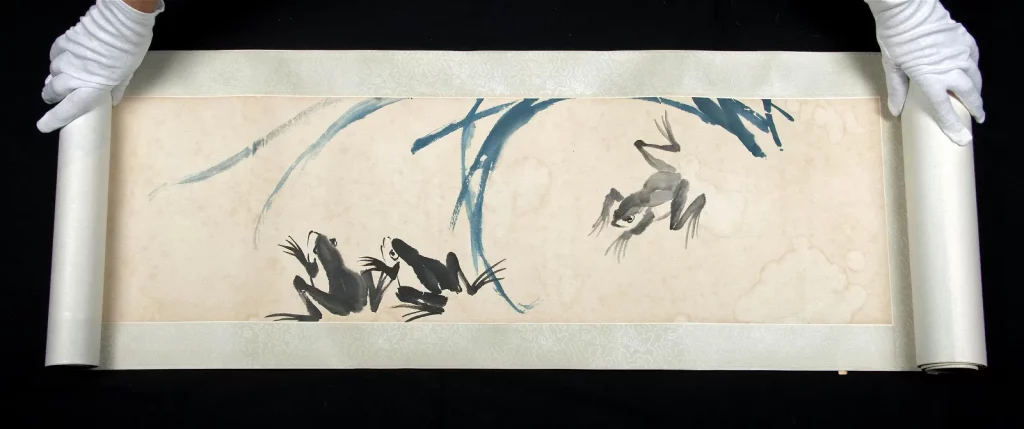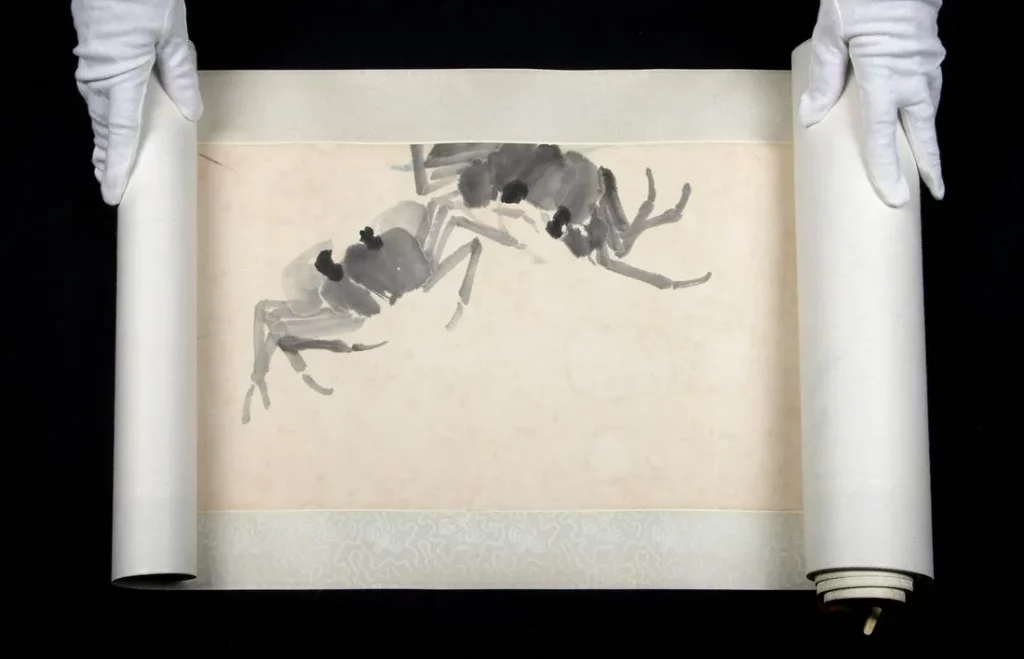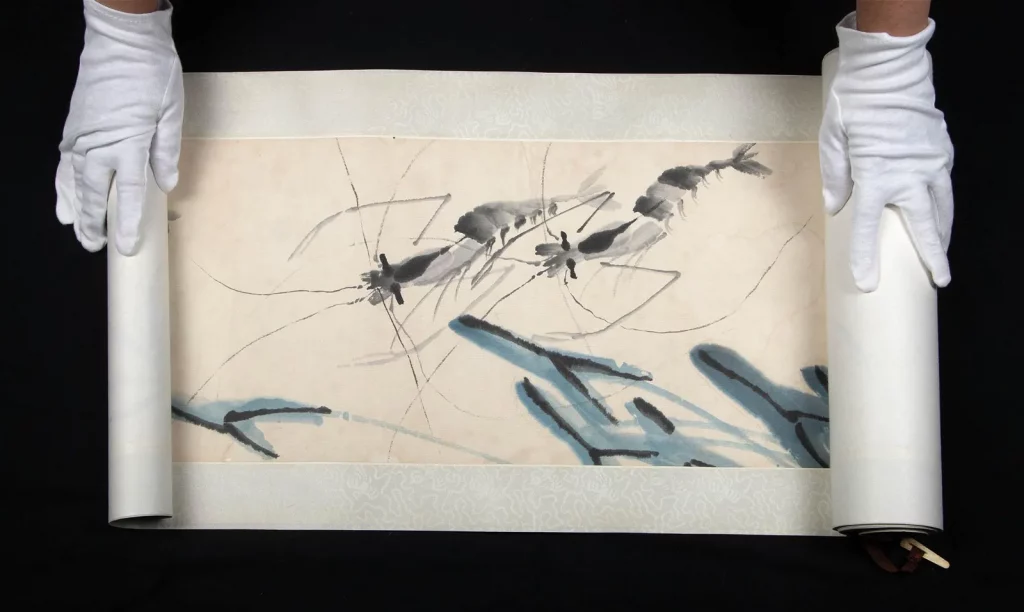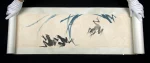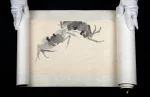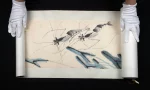 Winning Bid: $150,000.00
Signed Qi Baishi Painted Handscroll – Shrimp, Crabs, Frogs:
Qi Baishi (Chinese, 1864-1957). Shrimp, Crabs, Frogs, and Aquatic Plants Handscroll Painting – ink and colors on paper, n.d. Signed and stamped with two seals (see extended description below for discussion of calligraphic inscription and seals). A magnificent ink and wash painted handscroll by the legendary Chinese literati artist Qi Baishi depicting various sea creatures and aquatic plants in a long and impressive horizontal format. Ocean blue leaves of aquatic plants lead the viewer's gaze toward the left to view a trio of frogs, a pair of crabs, five shrimps, another crab, another pair of shrimps that crawl toward the left above additional blue-green plantlife, and finally, a sinuous gathering of crabs that swim in a meandering manner toward a single crab that faces them as well as the beginning of the scroll to complete the composition. An outstanding handscroll of a rare format, presenting this lively ensemble of sea creatures and plants with an elegant, flowing quality. Size of painting: 145.25″ L x 10″ W (368.9 cm x 25.4 cm)
The calligraphic inscription reads: Xingtang laowu hou ren Qi Huang hua (Painted by Qi Huang, descendent of the old house in Xingtang)
The small seal reads Qi Da
The larger seal reads Jieshan yin guan zhuzhe, one of Qi Baishi's many studio names.
The Metropolitan Museum of Art's curatorial description of Qi Baishi's "Water Life" (1940), which also features a sea creature theme, captures the magic of this artist's virtuosity with the following words, "The sweeping tendrils and crusty shell of the shrimp, the structure of the crab, and the moist flesh of the frogs poised to spring are rendered with the greatest economy of means. The paper becomes the pond in which elemental life is stirred by the brush."
Qi Baishi has been lauded as "the most popular painter in 20th century China, esteemed by the conservative scholarly elite, the common citizens of China's urban centres, foreign collectors and revolutionaries both artistic and political for his traditional paintings of birds, flowers, small animals and insects. The range of his appeal from the 1920s onwards derived from his character, his lifestyle and his image as a traditional, high-minded scholar–artist who remained aloof from corrupt politics and preserved cultural values during the politically and socially unsettled period after the fall of the Qing dynasty (1644–1911)" (Oxford Art Online).
Born and raised in Hunan province, Qi Baishi was a self-taught artist who lived a modest life working as a craftsman prior to pursuing painting. Baishi's story is among the most romantic of art history, because he would rise from these humble beginnings to become a master literati artist, creating impressive paintings in addition to calligraphy, seal carving, and poetry. Baishi studied with masters of the Shanghai School of painting and then moved to Beijing where both domestic and international collectors became his patrons. Following the establishment of the People's Republic in 1949, Baishi's humble background led devotees to celebrate him as a "people's artist." He was named Outstanding Artist of the Chinese People by the Ministry of Culture and was also awarded the World Peace Prize by the World Peace Council in 1955. While Baishi was undoubtedly an heir to the classical tradition of literati painting, his art stood apart for its marriage of traditional culture and modern innovation, employing virtuosic brushwork and scintillating coloration. (Sources: Oxford Art Online, The British Museum website, The Metropolitan Museum of Art website)
Qi Baishi made history in 2017 as the first Chinese artist to surpass the $100 million mark at auction. His "Twelve Landscape Screens" (1925) sold for $140.8 million (931.5 million yuan) – the highest price ever for a Chinese painting – at Poly Beijing.
A Qi Baishi hand-painted scroll entitled "Crabs and Shrimps" that measured 40 1/2 x 13 3/8 inches sold for $254,783 at Sotheby's Hong Kong on April 2, 2019 – lot 1367.
A Qi Baishi handscroll entitled "Shrimps and Crabs" (1933) that measured 13 x 51 1/6 inches sold for $205,920 at Christie's Hong Kong on May 31, 2016 – lot 1359.
Provenance: Private Gaithersburg, Maryland, USA collection, inherited from their father who was an art collector and an adjunct professor at the Academy of Arts & Design of Tsinghua University in Beijing, China
All items legal to buy/sell under U.S. Statute covering cultural patrimony Code 2600, CHAPTER 14, and are guaranteed to be as described or your money back.
A Certificate of Authenticity will accompany all winning bids.
PLEASE NOTE: Due to recent increases of shipments being seized by Australian & German customs (even for items with pre-UNESCO provenance), we will no longer ship most antiquities and ancient Chinese art to Australia & Germany. For categories of items that are acceptable to ship to Australia or Germany, please contact us directly or work with your local customs brokerage firm.
Display stands not described as included/custom in the item description are for photography purposes only and will not be included with the item upon shipping.
#172601
Condition
Recently remounted. Staining of paper appears to be consistent with natural aging. Expected creases commensurate with age as well. Imagery, colors, calligraphy and seal stamps are vivid. Custom box is in excellent condition.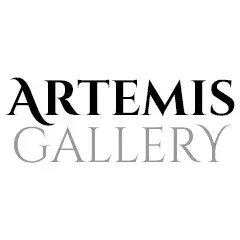 Live Auction
Start: Jul 14, 2022 10:00 EDT