Starting: $14,000
Signed George Dombek Watercolor – Bicycle, ca. 2004:
George Dombek (American, b. 1944). untitled watercolor, ca. 2004. Hand signed at lower center. A large-scale, framed, and hand-signed watercolor by Arkansas artist George Dombek. This composition presents a fascinating convergence between a bicycle and nature. Notice that the bicycle itself is rendered from skillfully bent and shaped tree branches and almost merges with the cluster of branches behind it. All is a vision of soft grays punctuated with moments of color – azure blue leaves and golden yellow monarch butterflies. A wonderful example of what Dombek calls constructed realism. See the biographical information below for more about Dombek's oeuvre and technique. Size: 30″ W x 22.5″ H (76.2 cm x 57.2 cm); 41.5″ W x 33.5″ H (105.4 cm x 85.1 cm)
According to George Dombek's monograph with commentary by Henry Adams, "Arkansas artist George Dombek has sold his work to over sixty museums and corporate collections, including seven works to the Crystal Bridges Museum of American Art. He has received numerous awards, including the Arkansas Arts Council's Lifetime Achievement Award.
Dombek was born in Paris, Arkansas, the son of a coal miner. He became fascinated by art at the age of seventeen when he read about the work of Jackson Pollock and Franz Kline in Time magazine. Concerned that he couldn't earn an adequate living as an artist, he studied architecture but was later drawn back into art and earned a master's in painting. Throughout his career, he has practiced and taught architecture, while devoting his principal effort to painting, particularly in watercolor.
All of Dombek's work, in one or another fashion, creates the illusion of reality by following a step-by-step process of construction, similar to the work of an architect or a builder. Dombek has used this method, which he calls constructed realism, to explore a variety of subjects in a way that seems to bridge the usual distinctions between real and abstract. George Dombek: Paintings collects some of the artist's most notable renderings of the themes he has pursued intensely for years: birds in trees, rocks, discarded cans and metal objects, enormous flowers seen in close-up, sticks bent in unusual ways, bicycles, and more."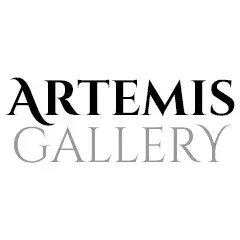 Live Auction
Start: May 13, 2021 12:00 EDT