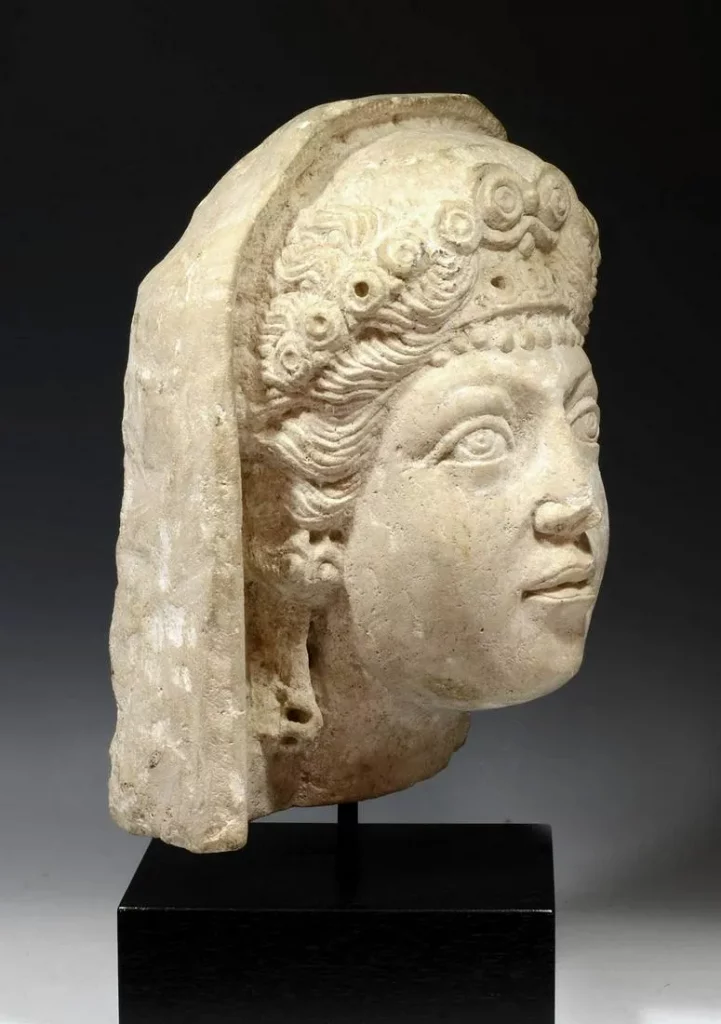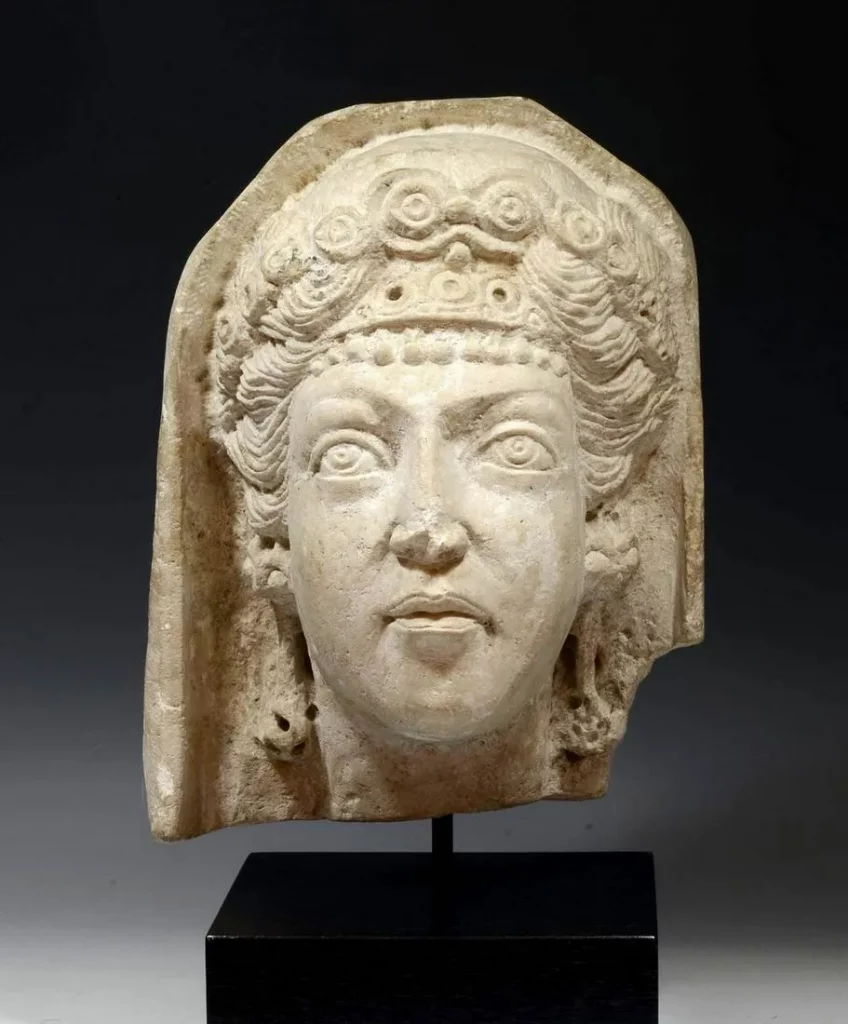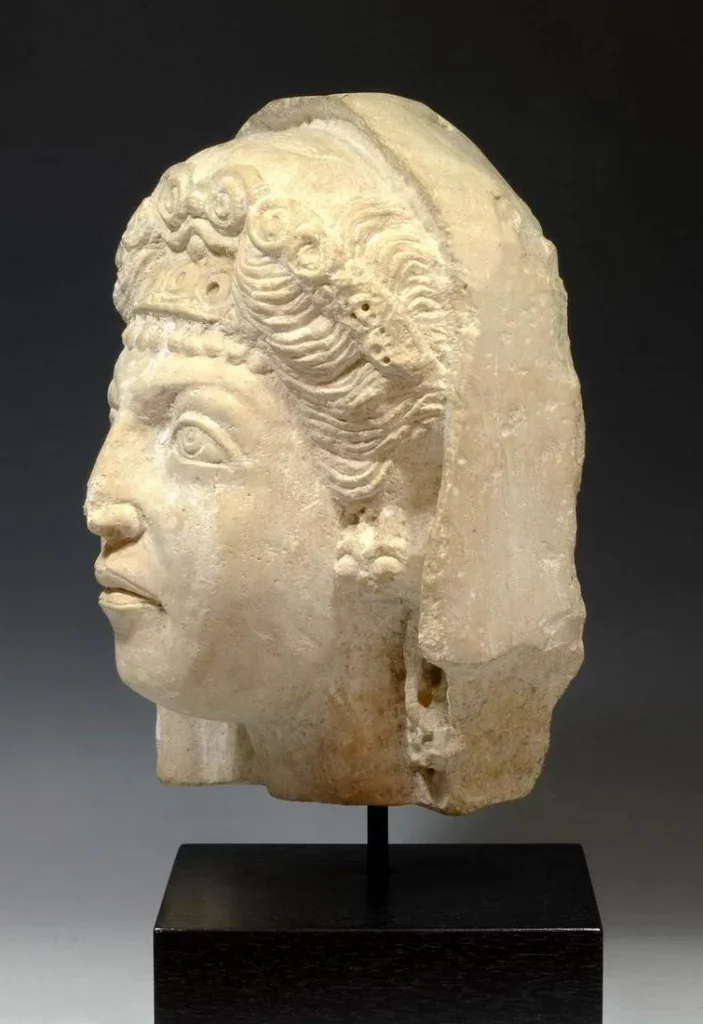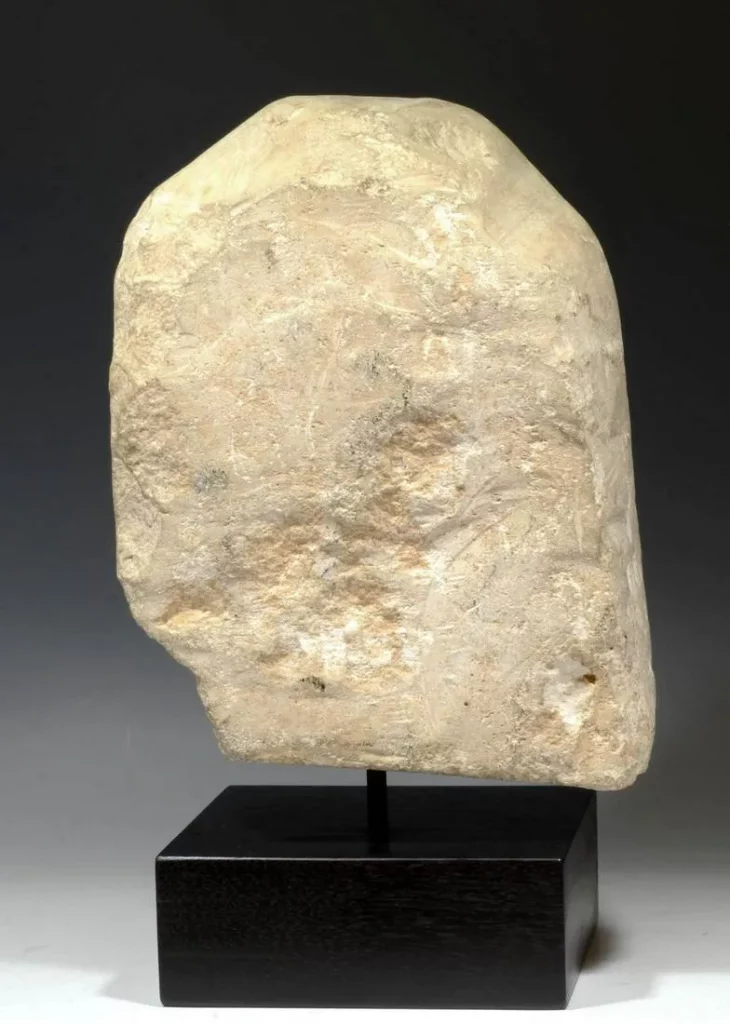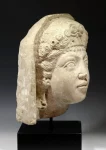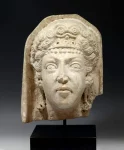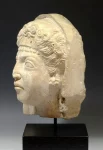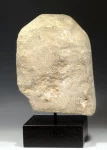 Winning Bid: $36,000.00
Roman Palmyrene Limestone Portrait Head – Veiled Woman:
Near East, Palmyra, Roman Imperial Period, ca. 1st to 2nd century CE. A gorgeous female portrait head, perhaps intended as a funerary portrait – that is hand-carved from creamy yellow-white limestone and replete with intricately stylized yet almost veristic detailing. The feminine visage presents in high relief with upturned, almond-shaped eyes with drilled pupils beneath sweeping brows, a slender nose with nostrils flanked by asymmetrical nasolabial folds, full lips with a delineated philtrum, and earlobes adorned by elegant earrings. A forehead chain peeks out from beneath a bejeweled diadem and with a coiffure consisting of carefully incised rows of curls, all beneath a delicate veil. Size: 13″ H (33 cm)
Palmyra was a wealthy city that linked the caravan routes from the Parthian Near East with the Roman Mediterranean. The people who lived there during this period largely enjoyed prosperity and were able to adopt eastern and western customs, clothing, and artistic styles, creating a distinctive visual culture unique to the city. We know of this culture today from the large funerary monuments that the Palmyran people built – tower-shaped vaults whose interiors were lined with sculpted limestone reliefs depicting the deceased.
Palmyrene sculpture was made from a stone that is largely nonreflective – usually limestone as we see in this example; however, the ancient Palmyrene sculptors excelled at sharp, angular chisel work that resulted in strong patterns which made for dramatic silhouettes and shadows. Just imagine this piece in its dark, shadowy tomb environment – lit by candlelight so that its intricate surface patterns would come to life as it were, the smooth facial contours contrasting with the darkness surrounding it – quite a vision indeed!
Another Palmyrene limestone portrait head of a woman hammered for 75,600 GBP ($90,727.56) at Sotheby's, London "Ancient Sculpture and Works of Art Part I" auction (December 7, 2021, lot 27)
Provenance: private New York, New York, USA collection; ex-American philanthropist J.I.K. collection, Florida, USA, acquired 1970s to 1980s
All items legal to buy/sell under U.S. Statute covering cultural patrimony Code 2600, CHAPTER 14, and are guaranteed to be as described or your money back.
A Certificate of Authenticity will accompany all winning bids.
PLEASE NOTE: Due to recent increases of shipments being seized by Australian & German customs (even for items with pre-UNESCO provenance), we will no longer ship most antiquities and ancient Chinese art to Australia & Germany. For categories of items that are acceptable to ship to Australia or Germany, please contact us directly or work with your local customs brokerage firm.
Display stands not described as included/custom in the item description are for photography purposes only and will not be included with the item upon shipping.
#173298
Condition
Loss to proper lower left corner and tip of nose as shown. Chips and abrasions commensurate with age, with minor softening to some finer details, otherwise in excellent condition with great preservation to most detailing.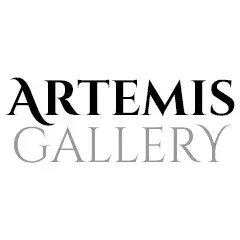 Live Auction
Start: Jul 14, 2022 10:00 EDT