Starting: $2,250
Roman Marble Bust of a Female / Muse:
Roman, Imperial Period, ca. 1st to 3rd century CE. A lovely marble sculpture of a female – perhaps a Muse – bust-length and uncarved on the verso, hence likely created for a niche, depicting a youthful female with nicely defined facial features including deep-set almond-shaped eyes, an aquiline noble nose, closed lips, and gentle contours – all crowned by a wavy coiffure adorned by a diadem. A beautiful bust from ancient Rome. Size: 4.625″ L x 4.75″ W x 7.25″ H (11.7 cm x 12.1 cm x 18.4 cm); 9.875″ H (25.1 cm) on included custom stand.
Sources of inspiration to poets, Muses were goddesses of music, song, and dance. In classical sculpture and vase painting, the Muses (Musai) were depicted as graceful young woman with various attributes such as musical instruments. Muses were also revered as goddesses of knowledge who possessed remarkable memory. In time, the muses were given specific names and assigned particular artistic realms: Kalliope (Calliope) for epic poetry; Kleio (Clio) for history; Ourania (Urania) for astronomy; Thaleia (Thalia) for comedy; Melpomene for tragedy; Polymnia (Polyhymnia) for religious hymns; Erato for erotic poetry; Euterpe for lyric poetry; and Terpsikhore (Terpsichore) for choral song and dance.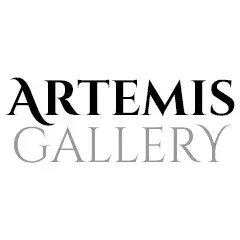 Live Auction
Start: Mar 04, 2021 10:00 EST
End: Mar 05, 2021 12:17 EST