Starting: $600
Roman, Imperial Period, ca. 1st to 3rd century CE. Wow! An elegant pair of earrings originally made to be worn by an elite woman. Each is composed of 85% gold (equivalent to 20K+) sheet hammered into a square with a reinforced lower edge and three loops embedded in it. Below those loops are three dangling hammered sheet diamonds, also made of hammered gold. Inlaid into each diamond face – three total on each earring – is a wine red garnet disc. Below the diamond is a trapezoid with repousse mirrored wing forms and a gold pin emerging from its lower end. Below that on two of the three is a large, pale green chalcedony bead; a same-sized chalcedony bead is placed in the center of the gold sheet above using a delicate gold wire. Although the form sounds complicated, when viewed together they form a cohesive whole that calls to mind an altar or entrance to a temple. Furnished with modern solid 14K ear hooks and modern solid 10K rings, these earrings are wearable. Size: 0.55″ W x 1.55″ H (1.4 cm x 3.9 cm); gold is 85%, equivalent to 20K+; total weight: 7.8 grams
Provenance: ex-private Johnson collection, Houston, Texas, USA, acquired at auction between 2010 and 2013
All items legal to buy/sell under U.S. Statute covering cultural patrimony Code 2600, CHAPTER 14, and are guaranteed to be as described or your money back.
A Certificate of Authenticity will accompany all winning bids.
We ship worldwide and handle all shipping in-house for your convenience.
#153591
Condition
Hooks and rings are modern, but everything else is ancient. One of the red garnets is lost. The gold sheet has some tiny tears along its edges. Wearable!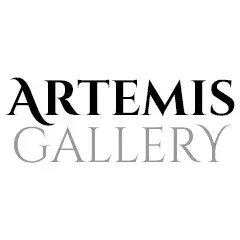 Live Auction
Start: Mar 12, 2020 10:00 EDT