Starting: $5,000
Rare Laugee Masterpiece (Sequel to The Laundress):
This is a masterpiece oil painting by either Georges Francois P Laugee (1853 – 1937) and / or his father, Desire Laugee (1823 – 1896). Signed lower left in CAPS LAUGEE fils. Originally, it was obtained as a painting by Georges Laugee but under extensive review, seems to be by Desire Laugee (1823 to 1896). Regardless of if it is the famous father or famous son painter, a case of the importance of this painting by either artist can be made based on several major points. If you look up The Laundress that sold in 2014 at Christys in New York and look at images, you will see a young woman. Compare the attire from The Laundress to this piece. Seems that both have same shoes with the shoes of this painting now worn with holes, seems same bonnet in both but this painting the yellow bonnet looks tired, seems they have the same dress but in this one it is now tattered, and seems to have same shawl but in this painting, the shawl is now held by the boy. Additionally, this piece has same capped signature LAUGEE as is the signature style of Desire Laugee verse his son, Georges Laugee, who tended to sign in a cursive style. This piece is signed lowered right in caps with word fils. In french, fils means son. Maybe, the assumption is that fils is referencing Georges Laugee as son of Desire. However, if you look up bio of Desire Laugee, note that he had a father as well whom paid for Desire to go to art school and thus, Desires father started the Laugee family painting legacy. Desire often referenced his father in his paintings as well as the common theme of pheasants, rich vs. poor; as did Georges. So is this Georges Laugee doing a tribute to his father's famous The Laundress in almost exact form and signing it with his fathers CAPPED signature asa tribute, or, is it Desire Laugee painting his sequel to The Laundress ? Both artists sell for good money, many of paintings went unaccounted for, and frankly, neither artist isthat easy to obtain. Even possible the painting is more valuable if it is Georges Laugee as obtained verse Desire Laugee that seems to be more likely. Whether Georges, Desire, and/or a collaboration, it is a masterpiece. The Laundress by Desire Laugee sold for over $118,000 at auction on October 27, 2014. This piece is for a museum or serious collector that can take care of it. This is one to research and is magnificent in size at 53.5 inches x 40 inches (very similar in size to The Laundress). Painting is in a gold gilt molded wood frame. PROVENANCE: Originally from the estate of Breene M. Kerr, son of Oklahoma Senator Robert S. Kerr. 1% of hammer price for all sold items at Masters of Art Volume III Auction will be donated to the The Maine Audubon Society.
Condition
Overall great condition. Painting has been relined, cleaned, and restored with a newer stretcher. Craquelure and some minor flaking on upper portion of painting. Reviewed under U/V light showing nice green covering over painting and and signature consistent with age.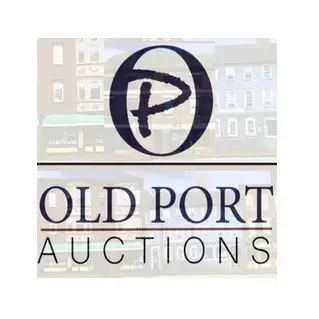 Live Auction
Start: Aug 21, 2021 13:00 EDT
End: Aug 23, 2021 09:43 EDT