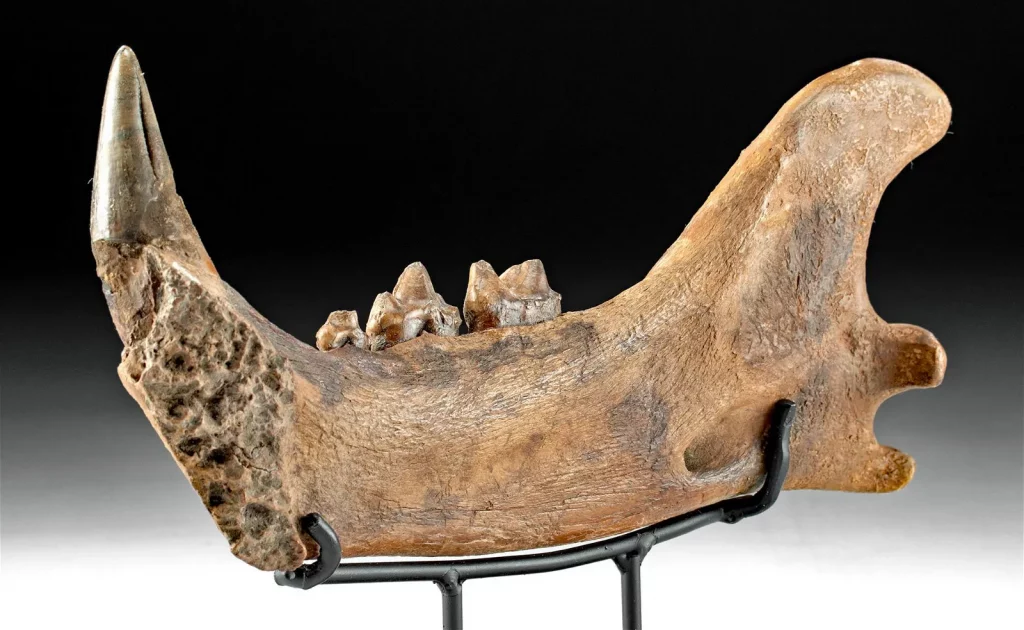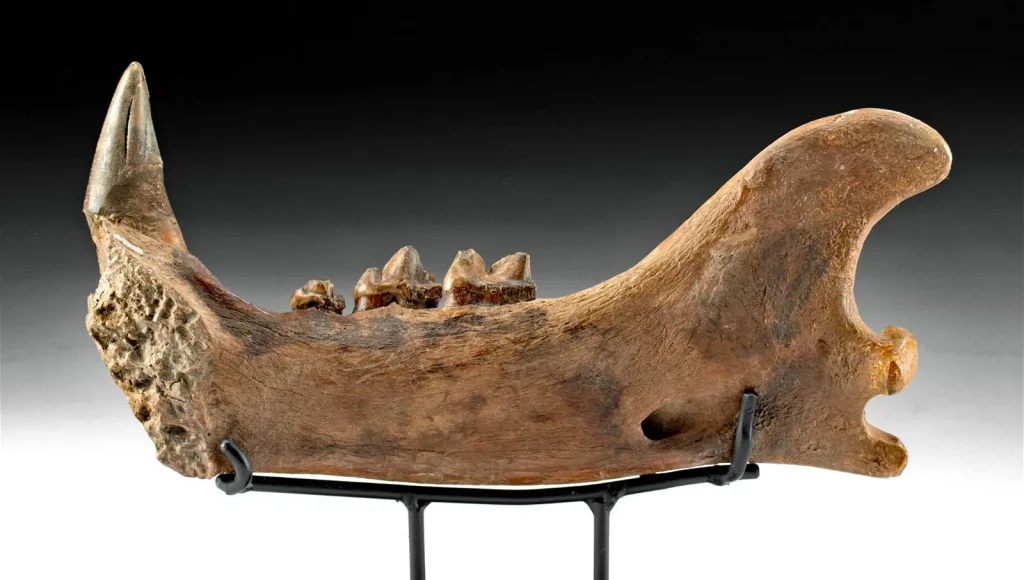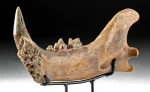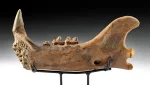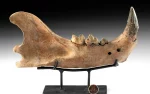 Starting: $4,500
Rare Fossilized North American Lion Jawbone w/ Canine:
North America, United States, Florida, Pleistocene period, ca. 340,000 to 10,000 years ago. A beautiful and nearly compete fossilized lower mandible from a prehistoric North American lion, Panthera atrox. This is an amazing specimen from the left mandible of the largest North American predator of the Pleistocene epoch. This bone is nearly complete with the canine tooth and molars on full display! The exposed enamel of the canine tooth is huge, over 2 inches (5 cm), with more root under the bone. The surface of the jaw is a coffee brown hue, and the teeth have a lustrous caramel and umber enamel. This is a rare and unusual fossil to add to any collection! These cats were widespread throughout lower Canada and North America, including Florida where this jaw was found. Size: 9.75″ L x 1″ W x 4.5″ H (24.8 cm x 2.5 cm x 11.4 cm); 7″ H (17.8 cm) on included custom stand; visible canine size: 2.25″ L (5.7 cm)
The American lion was the largest species of lion to ever exist, approximately 25% larger than modern day African lions, standing at 3.9 feet at the shoulders (1.2 meters) and 5 to 8 feet (1.6 to 2.5 meters) from nose to tail tip! On average the males weighed between 518 and 1,153 lbs. (235 to 523 kg)! Unsurprisingly the lion was one of the largest carnivores inhabiting North America, only rivaled in the south by the giant short-faced bears. While Smilodon, also known as the saber tooth tiger, is the more famous of prehistoric cats, the American Lion is larger and exceedingly rarer. It should be noted that prehistoric lion fossils are infrequent and seldom in such excellent condition!
Provenance: private Rome, Georgia, USA collection
All items legal to buy/sell under U.S. Statute covering cultural patrimony Code 2600, CHAPTER 14, and are guaranteed to be as described or your money back.
A Certificate of Authenticity will accompany all winning bids.
PLEASE NOTE: Due to recent increases of shipments being seized by Australian & German customs (even for items with pre-UNESCO provenance), we will no longer ship most antiquities and ancient Chinese art to Australia & Germany. For categories of items that are acceptable to ship to Australia or Germany, please contact us directly or work with your local customs brokerage firm.
Display stands not described as included/custom in the item description are for photography purposes only and will not be included with the item upon shipping.
#166972
Condition
Molars are original to the jaw, but the canine tooth is from another North American lion. The visible upper portion of the canine is attached to the root from the original tooth. The jawbone has restoration from the ramus to the coronoid process. The rest of the bone and teeth (which makes up about 85% of this jaw) are original material. Restoration is excellent and professionally executed. Gorgeous coloration throughout!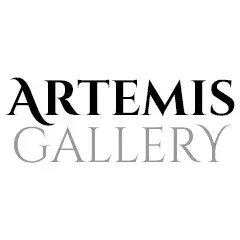 Live Auction
Start: Apr 28, 2022 10:00 EDT