Starting: $16,000
Rare Fossilized Hoplophoneus Saber Cat Skull:
North America, South Dakota, White River Formation, Late Eocene to Early Oligocene Period, ca. 35 million to 29 million years ago. A rare, fossilized skull from Hoplophoneus primaveus in the Nimravid family, a predecessor to saber-tooth cats! This saber-tooth carnivore has huge canine teeth, wonderfully on display with the lower jaw slightly gaping open, as if to snarl or ambush unwary prey! This is the second earliest saber-tooth cat that roamed North America beginning in the Oligocene Period. The bone quality is magnificent, and the upper skull is outstanding, with definitive shape and teeth! This creature is one of the most highly desired vertebrate fossils in the world due to its resemblance to Smilodon and extreme age! This rare cat is a remarkable prehistorical fauna that very few collectors have the opportunity to own! Size: 8″ L x 5″ W (20.3 cm x 12.7 cm); 8.5″ H (21.6 cm) on included custom stand; saber tooth: 2.25″ L (5.7 cm)
These animals were 2 feet tall (0.6 meters), the size of a large modern-day bobcat, and were more of a group predator with close-knit families as evidenced by some hoplos found together in death while overall very rare species hunting an abundant food supply of grazing ungulates including camels and oreodonts. Using their highly developed saber-teeth they would likely sever the blood supply in the neck of their prey in the initial attack. Hoplophoneus shared many physical characteristics with the famous Smilodon (saber-toothed tiger), namely, the large saber canines; but Hoplophoneus were an earlier much older species that preceded their feline ancestors by millions of years. We cannot stress enough just how awesome and rare this fossilized skull is. While smilodons are often regarded as the king of saber-tooth cats, Hoplophoneus preceded smilodons and paved the way for saber tooth evolution.
This piece has been searched against the Art Loss Register database and has been cleared. The Art Loss Register maintains the world's largest database of stolen art, collectibles, and antiques.
Provenance: private Rome, Georgia, USA collection
All items legal to buy/sell under U.S. Statute covering cultural patrimony Code 2600, CHAPTER 14, and are guaranteed to be as described or your money back.
A Certificate of Authenticity will accompany all winning bids.
PLEASE NOTE: Due to recent increases of shipments being seized by Australian & German customs (even for items with pre-UNESCO provenance), we will no longer ship most antiquities and ancient Chinese art to Australia & Germany. For categories of items that are acceptable to ship to Australia or Germany, please contact us directly or work with your local customs brokerage firm.
Display stands not described as included/custom in the item description are for photography purposes only and will not be included with the item upon shipping.
#167308
Condition
Professionally prepared and restored. Approximately 85 to 90% or more original material. Infill to gaps and fissures with a larger area of infill along eye orbitals. One saber is cast, and the other is original. Lower jaw has a bar attached for suspension on the stand.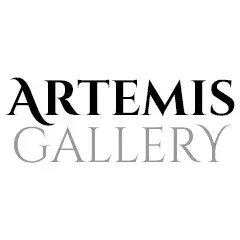 Live Auction
Start: Dec 02, 2021 10:00 EST
End: Dec 03, 2021 11:26 EST