Starting: $16,000
Rare Fossilized Cave Hyena Skull – Choice!:
Central Asia, Eastern Kazakhstan, Altai Mountains, Pleistocene epoch, ca. 2 Million to 10,000 years ago. A fascinating fossilized skull from the extinct cave hyena, also known as the Ice Age spotted hyena (Crocuta crocuta spelaea). This skull has been shockingly preserved to near perfection – due to the location in which it was found – protected within a cave from the elements. It is displayed to show off the teeth within the incredibly powerful jaws – these animals ate everything from reindeer and horses to woolly rhinos, accumulating their bones and horns in their cave dens. In Siberia, there is evidence they also ate cave bears! Note the heavy nature of the skull, reinforced for the hyena's rough life of hunting animals larger than itself and contending with neighboring predators – notably wolves. Although their DNA is not significantly different from modern hyenas, cave hyenas were considerably larger than their modern ancestor. The fossilization process has left the bones a rich brown umber color, and the teeth are a pretty black and mottled brown. This is a very rare specimen due to its near perfect condition. It is not common to come across such an amazing fossilized hyena skull! Size: 13.5″ L x 8″ W (34.3 cm x 20.3 cm); 10″ H (25.4 cm) on included custom stand.
These cave hyenas were subspecies the spotted hyena, which is the only modern living member of the Crocuta family. Cave hyenas, also known as the Ice Age Spotted Hyena, were encountered by prehistoric humans and depicted them in cave art, including the Chauvet Cave and Lascaux. Archaeologists also found an atlatl weight carved of mammoth ivory in the form of a crouched hyena, perhaps meant to depict the animal stalking its prey, in the La Madeleine rock shelter, dating ca. 12000-17000 years old. This species once ranged from Iberian Peninsula to Russia. This hyena was a highly specialized animal. These weighed approximately 230 pounds (104 kg), hunted in packs, and ate wild horses, steppe bison, and wooly rhinoceros. Like many prehistoric animals, the cause of extinction is not fully understood, but likely due to climate change, and an inability to compete with other predators.
This piece has been searched against the Art Loss Register database and has been cleared. The Art Loss Register maintains the world's largest database of stolen art, collectibles, and antiques.
Provenance: private Rome, Georgia, USA collection
All items legal to buy/sell under U.S. Statute covering cultural patrimony Code 2600, CHAPTER 14, and are guaranteed to be as described or your money back.
A Certificate of Authenticity will accompany all winning bids.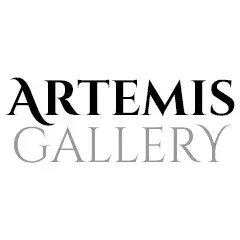 Live Auction
Start: Jul 13, 2021 12:00 EDT
End: Jul 14, 2021 05:40 EDT