Starting: $10,000
RARE Circa 17th C. – Belgian Oil with verso Stamp:
Monumental Circa 17th century oil painting . Potentially Lucas van Uden (1592-1672, David Teniers II (1610-1690) (Known also as David Teniers the Younger), a collaboration of the two artists, Pieter Brueghel II? Oil on cloth. Signature not seen. On verso of painting, a faded circular stamp has been found on upper right. Stamp is very similar to the City of Antwerp circular stamp that is on the verso of wood panel painting by Peiter Brueghel II, titled the The Outdoor Wedding that sold for over $1.2 million in 2015 at Christie's in London . Antwerp Stamps and labels were required by artists of the time in Antwerp by the Antwerp Joiners Guild. See reference on following link from Christie's article. Note circular stamp image shown on 4th section of link and the images provided on verso of this painting. https://www.christies.com/features/8-things-you-can-learn-from-the-back-of-a-painting-10293-1.aspxVery detailed and masterful painted oil. Over sixty figures in painting in great detail. Interesting change of direction painting leading towards church in backdrop on top right with man face down with dog and boar and empty plates in forefront. Left side shows band playing with mid portion of painting people eating and dancing. Painting was originally housed an elaborate monumental plaster gold gilt frame but four corners and mid sections of frame were damaged when delivered (Painting was not damaged). Both painting and frame including in this sale. Frame has been partially repaired in house. Due to how delicate the frame is, special shipping or pick up will need to be determined by Buyer.In addition to photos provided in auction listing, check back for links of additional photos and video showing both painting and frame. A labeled photo of frame prior to damage to frame shown in images. Painting alone measures inches wide by inches high. Frame measures approximately inches wide by inches high. 1% of hammer price for all sold items at Masters of Art Volume III Auction will be donated to the The Maine Audubon Society.
Condition
Painting is in overall good good condition. rubbing and paint loss around perimeter where frame covered painting. Some spotting. Patches seen on verso of painting. May have been revarnished. Viewed under UV light. Painting was removed from frame. Painting is out of frame and frame has damage as noted in description.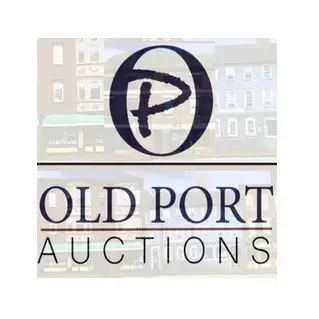 Live Auction
Start: Aug 21, 2021 13:00 EDT
End: Aug 23, 2021 09:42 EDT