Winning Bid: $3,000
Rare 9th C. Viking Silver Ritual Bowl:
Northern Europe, Scandinavia, Viking or Norse culture, ca. 9th to 10th century CE. A rare and beautiful bowl made from 99.5% to 99.6% silver and likely deposited in a Viking hoard. This is a luxurious piece, with a flat base and steep, slanted sides, hammered into a rounded shape. The exterior of the bowl has a geometric design of small impressed triangles encircling the wall just below the rim. Precious metal items of silver and gold were the ultimate symbol of wealth and status in northern and western Europe at this time. A substantial and quite striking example! Size: 8.75″ Diameter x 1.75″ H (22.2 cm x 4.4 cm); quality of silver 99.5% to 99.6%; total weight: 255 grams
A silver bowl such as this one may have been an object of great religious power in the Viking world. In "Olafs saga helga" (The Saga of St. Olaf), written by Snorri Sturluson ca. 1230 CE, there is a scene between two Vikings who have found a sacred grove where an image of the god Jomali guards a hoard of gold and silver treasure, including a silver bowl full of coins. The Vikings steal the bowl and coins without thought, and are cursed by Jomali for their trouble, with one murdering the other.
A bowl like this was probably deposited in a treasure hoard. One of the most interesting archaeological finds from the Viking period is a hoard of metal objects, often buried in the earth or deposited in bodies of water. Such hoards have been found throughout the British Isles and the Nordic countries. This bowl would have been incredibly valuable to its owners, used as part of the important social ritual of feasting, in religious ceremonies, and, ultimately, to deposit as treasure.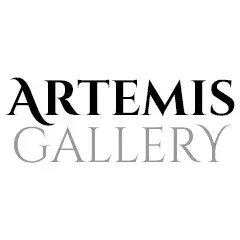 Live Auction
Start: Mar 04, 2021 10:00 EST
End: Mar 05, 2021 12:18 EST