Starting: $125,000
Roman, Imperial Period, ca. late 3rd to 4th century CE. A very large silver plate of a concave circular form with a relief medallion symbolizing triumph adorning the tondo. The relief features two winged Victory/Nike figures crowning a Roman eagle with a laurel wreath to indicate victory. Beneath the eagle is a Greek inscription "AYR/ EYKARPOC," probably the name of the owner, Aur(elius) Eukarpos, but possibly the artist as it is not always easy to determine whether the names on silver plates designate the owner or the arti155506 st. Interestingly, the name Aurelius Eukarpos is attested on 3rd century inscriptions found from Thrace to Lycia in Turkey. The scene is surrounded by a beaded and incised decorative cymation type border consisting of swags with drop-shaped pendants containing various punches, half-moon shapes above and ribbons between them. Quite large and impressive! Size: 10.75″ in diameter (27.3 cm); weight: 907 grams (2 pounds)
The eagle stands right on a palm branch with its head turned back to the left. The Nikes don high-belted sleeveless chitons with long overfolds and hold palm branches in their left hands as well as the laurel wreath in their right hands. The plate itself has a carinated edge with incised grooves and sits upon a raised ring base that surrounds a makers mark comprised of concentric circles.
This piece was exhibited and published in catalogue for "Dressed to Kill in Love and War: Splendor in the Ancient World" (February 1 – March 31, 2019 – Academy Museum, Easton, Maryland, USA, fig. 14, p. 9). According to curator Sara E. Cox, "The plate is typical of Roman silver production in the third century AD, in that dishes meant for practical, domestic use at the time were often decorated with a low relief medallion in the center." Dr. Cox also writes, "Following the conquests of Alexander the Great, new sources of wealth were opened to the Greek world, and by the second to first centuries BC, there were several centers devoted to making fine silver items, including Athens, Pergamon, Ephesus, Antioch, Alexandria, and Tarentum in South Italy."
See a plate from the Chaourse treasure, now in the British Museum (inv. 1890.0923.1), that is comparable in style and size. See Donald E. Strong, "Greek and Roman Gold and Silver Plate (Ithaca, NY, 1966), pl. 48b; and Tresors d'orfevrerie gallo-romains (Paris, 1989), cat. No. 77, pp. 38-40, 130-131.
For inscriptions with the name Aurelius Eukarpos, see Benjamin D. Meritt, "Greek Inscriptions," Hesperia 23.4 (1954), pp. 233-283, cat. No. 117, pp. 272-273; Gunter Dunst, Zeitschrift fur vergleichende Sprachforschung auf dem Bebiete der Indogermanischen, Sprachen 78, 1/2 (1963), pp. 147-153, pp. 150-151; and N.P. Milnor, "Notes and inscriptions on the Cult of Apollo at Oinoanda," Anatolian Studies 50 (2000), pp. 139-149, p. 143.
The border around the central medallion is very similar to one on a large cup with Athena in Hildesheim treasure, now in Berlin, inv. 3779.1; also upon a large octagonal plate with Achilles discovered on Skyros in Kaiseraugst Treasure, now Augst, inv. 62.1. See Lucia Pirzio Biroli Stefanelli, L'Argento dei Romani (Rome, 1991), cat. No. 91, fig. 167, pp. 176 & 271 and cat. 163, figs. 234 & 236, pp. 224-225 & 295-296. There was a lamp workshop of Eukarpos active in Athens in second half of 4th into 5th century CE. See Judith Perlzweig, Lamps of the Roman Period: First to Seventh Century after Christ (Athenian Agora 7) (Princeton, 1961), pp. 25, 33-34. For a Nike with a wreath and an eagle in an apotheosis of Claudius, see sardonyx cameo in BNF, Cab. Med., Babylon 265.
Provenance: private East Coast, USA collection; Exhibited and published in catalogue for "Dressed to Kill in Love and War: Splendor in the Ancient World" (February 1 – March 31, 2019 – Academy Museum, Easton, Maryland, USA, fig. 14, p. 9); ex-Frances Artuner collection, Belgium, acquired in the 1960s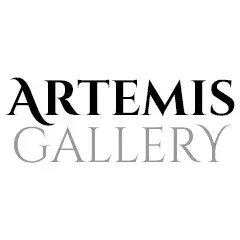 Live Auction
Start: Jun 04, 2020 10:00 EDT