Starting: $7,500
Published Greek Gold Earrings w/ Garnet & Turquoise:
Greece, Hellenistic Period, ca. 2nd to 1st century BCE. A dazzling pair of wearable 77% (equivalent to greater than 18K+) gold earrings with lovely inlays of translucent garnet in a rich hue of dark violet-red and turquoise from ancient Greece. Nearly identical in form, each gorgeous ornament boasts a sizable egg-shaped cabochon garnet with a round face surrounded by a border of golden spheres and topped with a crescent inlay filled with garnet on one and enveloped in even smaller golden orbs. A hemispherical turquoise embellishment encompassed by golden dots is featured at the end of each earring, serving as a type of finial. Both are fit with a gold backing and a thick golden suspension loop with a peg for securing closed. A truly eye-catching combination of ancient art and modern style! Precious metal quality: 77.16% (equivalent to 18K+) gold and 16.29% silver, with 4.27% copper; Size (both the same size): 0.75″" W x 1.875″" H (1.9 cm x 4.8 cm); Weight: 14.3 grams
It is believed that the crescent moon was a symbol of Ishtar, the Near Eastern goddess of love and war.
This style is called polychrome, and it is based on the combination of color of the metal that creates the shape and structure of the item and the colors of stones that fill it. Such design influenced the whole Hellenistic jewelry and continued into the Roman period
This gorgeous pair of earrings was published in "Masterpieces of Ancient Jewelry: Exquisite objects from the Cradle of Civilization" (Philadelphia: Running Press, 2008) by Judith Price on pages 77 through 79.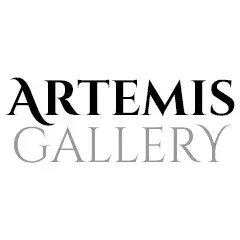 Live Auction
Start: Apr 08, 2021 10:00 EDT
End: Apr 09, 2021 04:41 EDT